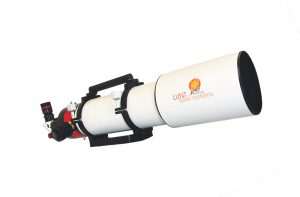 Lunt Solar Systems has introduced the Lunt LS130THa, the company's first 100% modular designed convertible telescope. The new triplet refractor replaces the Lunt Solar Systems LS152THa telescope and provides the opportunity to own a complete travelling telescope. Simply change from daytime viewing (through etalons) to nighttime viewing (without etalons) in minutes.
Lunt's convertible module system provides the ability to switch between configurations with a few twists of a screw, so users can go from the Sun's surface views to viewing distant objects in the night sky. The Lunt LS130THa will give you the ability to easily take your telescope from Hydrogen Alpha, to Calcium K, to White Light, or standard night-time viewing. You can choose the accessories to match your requirements.
The Lunt team assures that there are no compromises offered by the day-night flexibility of the scope – the LS130THa is a solar performer on par with its other offerings. The refractor-based system has a precision-aligned triplet ED lens with a 130 mm aperture. The focal length is 910 mm, for an f/ratio of 7. The course focus adjustment is made via a slide tube. Focusing is achieved with a high precision 2″ Starlight Feather Touch  focuser with 10:1 reduction as standard equipment. An internal etalon with tune adjustment allows for a <0.65 Angstrom bandpass.
The scope's True Doppler Tuning allows for a shift into and away from the user, adding a 3-D like component to the viewing experience. While this has minimal effect on proms due to their location at the edge of the disk, it does have an effect on filaments and the active regions on the surface. While looking at a filament at the center of the Sun, the user has the ability to Doppler shift from the base of the filament to the tip. In addition, the pressure tuning system provides an order of magnitude more precision to the tuning of the desired features.
The Lunt LS130THa Specifications include (single stacked):
– Optical Aperture: 130 mm
– Etalon: Internal <0.65 Angstrom (<0.45a Double Stacked)
– Tuning: Internal Pressure Tune (Doppler True Tuning)
– Focal Length: 910 mm
– F Ratio: F/7
– Focuser: 2″ Feather-Touch focuser with 10:1 reduction (2″ travel)
– Mounting Rings & Dovetail (9.5″)
– Tube length with blocking filter: 32 in
– Storage: Aluminum finished hard case with fitted foam
– Weight: 25 lb
– Optional accessories include:
– B1200, B1800 or B3400 Blocking Filter
– Backing Plate & Focuser
– Sun Finder: Televue Sol Searcher
– Double Stack Module
– CaK Filter
– White Light Filter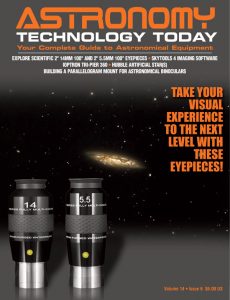 And to make it easier for you to get the most extensive telescope and amateur astronomy related news, articles and reviews that are only available in the magazine pages of Astronomy Technology Today, we are offering a 1 year subscription for only $6! Or, for an even better deal, we are offering 2 years for only $9. Click here to get these deals which only will be available for a very limited time. You can also check out a free sample issue here.