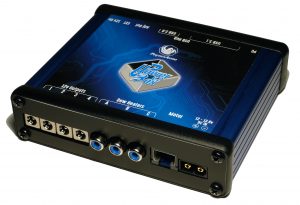 If you are tired of carrying multiple power packs and dealing with a  of jumble of power and data cables, the new Pegasus Astro Ultimate Powerbox v2 power control unit is the perfect solution.
The Ultimate Powerbox v2 (UPBv2 in short) offers a significant upgrade from the original Ultimate Powerbox. A USB3.1 Hub has been added  providing the ability to switch on/off each USB port plus there are more power outputs, more dew heaters, α new stepper controller that can drive any stepper motor on the market, as well as an expansion ports for future devices that will communicate with the UPBv2 Controller.
The unit's standalone software controls all of the UPBv2 features. You can receive metrics, view and zoom into graphs, name your outputs, and tune every setting quickly and easily.
Each 12V output and every dew heater channel has an internal and independent digital current meter. You can view each port power consumption in the software. A large and solid DC input socket ensures that power cable is always secured in place. Socket is selected to provide all the power needed without voltage drops.
Four powerful Smart Mosfet transistors provide "electric juice" to all equipment. Sophisticated short circuit and overload per port protections cut the power and report the incident into the built-in software. Every Mosfet is capable of providing up to 7Amps of current.
A precise voltmeter and an ampmeter (can measure up to 30A) measure and display in real time power input. If the input is more than 14.5V the power is instantly cut off to protect equipment.
An industrial grade USB3.1 Hub controller ensures that the USB hub will work flawlessly from temperatures of -40°C to +80°C. A neat feature is that each USB port can be switched ON/OFF individually by the software. If a device is stuck and you had to replug the socket in the middle of a cold night? No problem! Just locate the port, click the ON /OFF switch in the software and recycle the USB port . Simple as that!
The Ultimate Powerbox v2 offers:
– 4 x 12V Smart Outputs
– 3 x PWM duty cycle channels for your Dew Heaters or Flatpanel / Fans
– USB3.1  SuperSpeed, 5 Gbit/s Industrial Grade Powered Hub that includes 4 x USB3.1 and 2 x USB2 available ports (6 USB ports in total)
– Unipolar/Bipolar Stepper Motor Controller
– Variable / Regulated Output of 3Amps
– 12V / always ON Output
– Environmental & Power readings