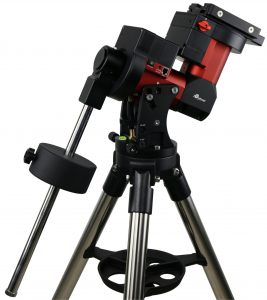 Continuing its innovation in mounting options, iOptron has Introduced the CEM40 and CEM40EC next-generation, center-balance equatorial mounts. The head weighs in at only 15.8 lbs. yet can support a payload of up to 40 lbs.
An integrated electronic polar finder scope (iPolar) ensures accurate alignment even at times when the pole star is obscured. Large levers on its quick-lock drive engagement system make it easy to snap its gears into place even when wearing gloves. There's little chance of cables getting snagged with the CEM40's internal cable management system.
The CEM40 and CEM40EC incorporate the company's new, patent- pending Universal Self-Centering Saddle (USCS) and accommodates Losmandy and Vixen style dovetail plates. Both The CEM40 and the CEM40EC utilize an ultra-quiet low power consumption stepper motor drive system. Both models are precise trackers, the EC version delivering <0.25 arcsecond accuracy with its high-resolution encoder. Other features such as onboard GPS, 359,000+ object library with star identification make these extremely portable and capable mounts sure winners.
Features include:
– Unique design, Center-Balanced equatorial mount (CEM) for maximum payload and minimum mount weight
– Ideal for both visual observation and astrophotography
– Maximum payload of 40 lbs (18 kg) with the mount weight of only 15.8 lbs (7.2 kg)
– All metal, CNC machined with red/black anodized
– Easy to use quick-lock gear clutches
– Integrated iPolar electronic polar finder
– Low periodic error (< ± 7 arc seconds)
– Permanent periodic error correction (PPEC)
– Precision stepper motor for precise GOTO and accurate tracking
– Go2Nova 8407+ controller with Advanced GOTONOVA GOTO Technology with built-in heater
– Integrated ST-4 autoguiding port
– 32-channel Global Positioning System (GPS)
– USB communication port
– Cable management system
– New, patent-pending iOptron universal saddle
– Standard 1.5 inch heavy-duty stainless steel tripod (5kg)
– Optional WiFi for mount control via SmartPhone/Tablet/Computer