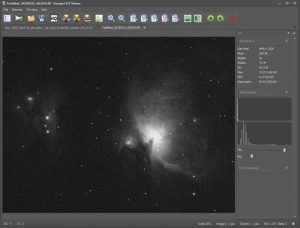 Voyager is Microsoft Windows(R) software that automates astrophotography. It integrates and orchestrates all mounts, cameras, filter wheels, rotators, guiding systems and more – all the hardware and software needed to do astronomy imaging. The software also controls dome or roll-off roofs with an ASCOM drivers. Voyager's companion product Viking offers hardware solutions including switches, relays, analog and digital I/O devices.
In its recent Voyager 2.1.4 release, the publishers included an integrated FITS file Viewer which automatically display images as they are downloaded to Voyager. The Viewer can be used as a standalone program and was built to run in its own window and as a separate process.
Voyager 2.1.4 also offers support for the Artesky Flat Field panel devices. Setup is simple –choose Artesky Flat Device in Voyager's Setup panel on the Flat & Device tab and select the COM port used by your Artesky flat device. All models of Artesky flat panels are supported.