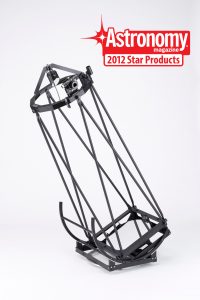 The Hubble Optics UL Series of Dobsonian telescopes feature a premium, light, compact and portable design offering about half the weight of traditional Dobsonian telescopes.
Each UL Series telescope offers Hubble's custom lightweight sandwich mirrors with an optimized thermal design that cools up to 10 times faster than regular solid mirrors. Each scope can be assembled in minutes and offers precision-machined all-metal construction with 8 rigid truss tubes and extremely strong and portable folding ALT bearing structure. They feature real mirror boxes for safe mirror protection, convenient storage and easy transportation.
A new video review of Hubble's UL16 Dobsonian Telescope has recently been published by Dakota Starry Nights. You can check it out below.