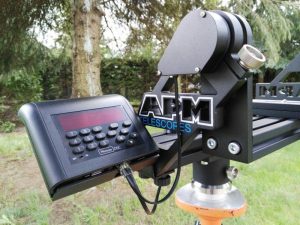 One of the great recent developments in the field of amateur astronomy is the number of super-sized binoculars designed specifically for astronomy. And we mean really big binoculars, with the depth and breadth and ability to reach deep into the heavens.
APM Telescopes has been in the forefront in the development of serious astronomical binoculars as evidenced by two recent editions –  the APM ED 100mm and 120 mm Binoculars. You can check out an in-depth review of by Astronomy Technology Today's Mark Zaslove on APM's APM 100 mm 90 Degree ED-Apo Binoculars here.
And it makes sense that APM also is in the forefront of binocular mounts – which brings us to the APM Fork Mount with AMT Encoder and Nexus Controller for Large Binoculars.
This mount has long been sought after as the premium way to carry high end astronomical binoculars. These modern mounts offer optimal tracking coupled with virtually no vibration. They feature a high load capacity and extreme functionality with the latest in integrated encoders and a Nexus controller.
While not new to the market, what is new about these mounts is that they now are offered as a full production series, instead of one-off production upon order. Now astronomy binocular enthusiasts no longer need to wait to receive the mount upon order. You can learn more at the APM website.