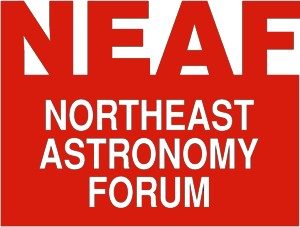 It's time to start making plans for NEAF/NEAIC 2019! The events will again be held in at Suffern, New York just a short 30-minute drive from New York City.
NEAIC
The Northeast Astro-imaging Conference (NEAIC) will kick things off with two days of seminars and displays of interest to those just getting started in astroimaging, as well as to the seasoned professional. Representatives of major imaging-products manufacturers will be on hand to show off the latest equipment and to share their expertise in person. Registered attendees receive entrance to all NEAIC daytime activities, continental breakfast and lunch both days and a two-day pass to NEAF 201.9
The event will be held on April 4 and 5, 2019 at the Crowne Plaza Conference Center in Suffern. The cost to participate is $310, which includes both days of the conference, and $75 for each evening workshop.
Registration and other information about the event can be found here.
NEAF
The mecca of amateur astronomy, NEAF provides an opportunity for thousands of people to visit with over 120 vendors who will be on hand to share their products, advice and personal assistance on April 6 – 7, 2019. The two-day event will also include the annual NEAF Solar Star Party, seminars, workshops, kid's events, beginner sessions, door prizes, raffles and much, much more.
NASA representatives will be well represented at the event including Al Worden, Apollo 15 Command Module Pilot; Don Pettit, NASA Astronaut; Jim Green, NASA Chief Scientist; Alan Stern, NASA Principal Investigator, New Horizons Mission; and James Hanson, Neil Armstrong biographer.
Daily presentations and talks will include:
– Steve Ramsden, Charlie Bates Solar Project: Will discuss recent Solar activity, the International SUN-day & the importance of science outreach in our world.
– Dr. Ken Kremer, NASA/JPL Planetary Ambassador: Will discuss the future of NASA – Orion, SpaceX, Antares & more.
– Al Nagler, Optical Designer and Tele Vue founder: Will provide a deep dive into how to choose and eyepiece.
– International Dark Sky Association: Will offer a light pollution update
– Dr. Bernie Sokolowski: Will conduct a beginner's class in how to use a telescope
The event offers a free Pro/Am Conference, which features walk-in classes where you can learn how to do real science and collaborate with professional astronomers and scientists.
The kid in all of us will enjoy the NEAF Kids' Space & Astronomy area which provides a place for kids to build models and crafts as well as play with hands-on exhibits designed to capture their imaginations. Kids can win a telescope to take home with free telescope giveaways sponsored by Astronomics, Woodland Hills Camera and Telescope, Software Bisque, and Oceanside Photo and Telescope. There will also be a Starlab Planetarium with shows playing all weekend and kids Solar viewing educational programs.
Special rates for attendees and exhibitors are available at the Crowne Plaza, (NEAIC location and closest to NEAF), Suffern, NY, 845-357-4800; the Sheraton Crossroads, Mahwah, NJ, 201-529-0887; and the Courtyard Marriott, Mahwah, NJ, 201-529-5200.