Astronomik now is offering its popular Clip-Filters for Sony and Nikon cameras. Astronomik's Clip-Filter offerings are hugely popular with DSLR camera owners for astro imaging. Ingenious in their design, these custom-made filters fit inside the housing of the camera, just behind the lens or T-ring. No tools are necessary to use them, as they just pop in and out.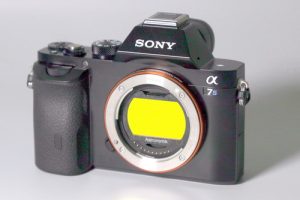 According to Gerd Neuman with Astronomik, "After a long period of prototyping and development we are now able to offer Clip-Filters for Sony Alpha bodies and XL-Clip Filters for Nikon bodies. The filters are held in place safe and secure with no stress to the high-quality glass."
The Sony Clip-Filters are designed and optimized to be used with normal lenses and with telescopes as well. The Clip-Filters have been successfully tested with all Sony Alpha 7 bodies (7, 7r and 7s in Mk I, MkII and Mk III versions) and the Sony Alpha 9 body.
For Nikon enthusiasts, Astronomik now offers XL-Clip Filters for the full format bodies from Nikon. Neuman reports that due to the very tight Nikon bajonet, the clip-filters add a minimal obstruction at the edge of the field.
The Nikon XL-Clip Filter have been successfully tested with the Nikon D800, D810 and the D850 models (other bodies have not been tested yet). The Nikon XL-Clip will not work with cameras with APS-C sized sensors nor with the new mirrorless body. Neuman says that Clip-Filters for the APS-C sized models will be released in the near future.