The Mallincam SkyRaider DS10c offers a sensor that is 21.8mm measured diagonally and it has 10.7million pixels. The sensor in the camera supports Contrast Gain – a mechanism for boosting sensor sensitivity.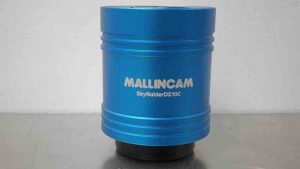 Said Jack Huerkamp with Jack's Astro, "During testing when Low Contrast Gain (LCG) was employed, Physical Gain had to be set to Level 160 out of 160 and an exposure of 25 seconds was needed to display the Swan Nebula. When High Contrast Gain (HCG ) was utilized, Physical Gain was lowered to 40 out of 160 and only a 5 second exposure was needed for the Swan Nebula. With HCG Physical Gain could be lowered to 25% of that needed with LCG and exposure time could be reduced to 20% of that needed with LCG."
The Mallincam DS10c has a 10.7 megapixel Back Illuminated Sony IMX294 Class 1 hand selected CMOS Industrial sensor that has no amp glow. The sensor supports full 4K resolution for high resolution live images in full color. The new DS10c has 4 gigabits DDR internal memory for smooth effective image transfer and helps ease resources on a USB 3 connected computer.
Passive cooling is included with fan assist to keep the CMOS sensor temperature stable. No Peltier cooler is needed as the software can eliminate all noises, hot pixels and warm pixels during live application or during imaging session.
The Mallincam SkyRaider DS10c case was designed for use with HyperStar compatible optical systems where a minimal foot print is desired. The DS10c is a compact unit that comes with a 2-inch to T-mount adapter. The large sensitive sensor will satisfy the most demanding video imager. The unique Conversion Gain option can be activated in HCG to LCG mode where high gain and low gain is desirable for certain imaging applications whether live or during imaging conditions.
The camera comes with the MallinCamSKY software application which includes conversion gain, dark-field correction, flat-field correction and digital binning up to level 4×4. This increases sensitivity to levels rarely achieved in a large-format CMOS sensor. Bit depth from 8 bits to 12 bits are selectable. Black Level, Histogram, Live Stack in two mode Additive and Averaged are also selectable while the Frame Alignment Feature keeps all stacking perfectly aligned even in ALT-AZ mode, a first in the industry for a larger format video CMOS Camera. Exposures can be from 100 micro seconds up to 16 minutes and 40 seconds.
The DS10c is fully compatible with the MallinCam Universe T-mount 0.5x focal reducer and comes fully equipped with a 5-metre (16.4 ft) USB 3 high-grade cable, 2-inch to T-mount adapter and 2-metre (6.5 ft) guiding cable.
Specifications and features include:
– 4 Gigabits DDR Internal Memory for unsurpassed smooth operation
– Sony IMX294 Back Illuminated, Class 1 Hand Picked CMOS Sensor (scientific grade)
– 1900 mv output
– HCG and LCG Mode
– Correlated double sampling
– A high S/N ratio
– No amp glow
– 21.63mm diagonal sensor size
– Resolution Sizes:
– 4096 X 2160, 38 FPS @0.100ms
– 3704 X 2778, 35 FPS @ 0.100 ms
– 2048 X 1080, 70 FPS @ 0.100ms
– 1360 X 720, 100 FPS @ 0.100ms
– Digital binning: 1 x 1, 2 x 2, 3 x 3, 4 x 4
– Global shutter
– Image formats include FITS, JPEG, BMP, PNG
– Full Video Mode: AVI, SER
– Sealed optical window
– T-mount
– One cable operation
– Precision all aluminum construction and stainless-steel hardware
– Case size is 8.5 cm X 6.75 cm (3.26 Inches X 2.65 inches)
– Camera weight is 310 Grams (10.95 Oz.)
– Incorporates high-speed USB 3.0
– 5-volt operation @ 900 mA
SkyRaider DS10cTEC
With the SkyRaider DS10cTEC Mallincam's Rock Mallin developed a unique cooling system that provides no direct physical contact between the Peltier cooler and the sensor. Instead, the Peltier cooler creates a convection system "refrigerator-like" environment that cools the sensor without actually contacting it.  This cooling system is unique to MallinCam and is not found on other astronomical imaging cameras.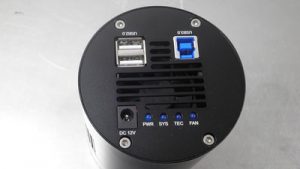 Since the back illuminated IMX294 class 1 CMOS sensor of the MallinCam DS10cTEC is cooled via convection, thermal shock to it and its associated circuitry is reduced. CMOS sensors have other components mounted on the same wafer with the imaging section which do not require or can be adversely affected by cooling.
This includes the digital logic circuitry (interface, timing, processing, output amplifiers, pad rings and associated oscillators), clocks and timing controls, analog signal processing, analog-to-digital converter (which when under cooling from direct cold finger and Peltier results in instability).  These parts of the CMOS sensor do not need to be direct cooled from a cold finger application.
So MallinCam has successfully designed a working alternative – a cooling chamber called refrigeration cooling – which subjects the CMOS sensor to cooling inside a triple sealed sensor chamber controlled with a heating element mounted around the internal optical window to control and avoid dew formation on the optical window and surroundings.
The result of this new technology means that the SkyRaider DS10cTEC will not require a dark frame for live application or imaging in most cases. It is built to laboratory specification, where CNC machining is used throughout to provide the rigid tolerances needed to provide precise component matching. The chamber has six stainless steel screws securing the chamber cover to avoid possible air leaks into the chamber.
The internal electronics use Grade 1 components with tolerance of 0.5%, a military and aerospace standard. The camera contains 4 gigabits of internal memory to insure the smooth flow of data to the computer. The DS10cTEC also has a built-in USB2 hub that can support a guider or a USB type focuser. Each camera is subjected to a 24-hour burn-in prior to being ready for shipment to insuring proper operation.
MallinCam SkyRaider DS287
The MallinCam SkyRaider DS287 is perfect for outreach programs at schools, colleges, universities, planetariums, museums and astronomy clubs or for the ultimate in live personal observing. The camera performs with stunning sensitivity with very short exposures. All components are industrial Grade 1 throughout the circuitry and the Sony IMX287 CMOS industrial sensor is Class 1.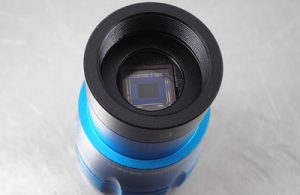 The monochrome industrial Sony CMOS sensor has a sensitivity of 7469mv @ 1/30s while the color version's sensitivity is 4584mv @ 1/30s. The DS287 has a 6.3mm sensor measured diagonally and the sensor has 0.4 million pixels. Due to the sensitivity of the 287 sensor, extremely short exposures are all that are needed to see targets live on the computer screen. During prototype testing, M3 was viewed live on the computer screen with an 85-millisecond exposure – truly near real time. Most of the Messier Objects can be viewed with exposures of less than 5 seconds.
Included are a 1.25-inch eyepiece adapter, a 2-metre (6.5 ft) guiding cable and a premium 5-metre (16.4 ft) USB 3 heavy-duty cable. The camera can achieve 525+/- frames per second (FPS), making the SkyRaider DS287c/m the ultimate planetary, lunar, solar (with proper solar filtration) and deep-sky camera.
Specifications and features include:
– Class 1 Industrial Sony IMX287 CMOS sensor
– 6.9 x 6.9 micron pixel size
– 720 x 540 resolution
– QE 95%+ (tested at 96.2%)
– 525+ FPS (frame per seconds @ 0.100ms exposure, USB3.0 connectivity)
– Noise figure: 1.2e
– Adjustable gain
– Digital binning: 1×1, 2×2, 3×3, 4×4
– Live stacking, averaged, or additive (selectable)
– Frame alignment on the fly – ideal for ALT-AZ mounted motorized telescopes
– Live Histogram adjustment
– Built-in temperature monitor of the CMOS sensor
– Sharpness feature
– 4584mv @ 1/30s for the color model DS287c
– 7469mv @ 1/30s for the mono model DS287m
– Exposure from 0.100ms to 16 minutes 40 seconds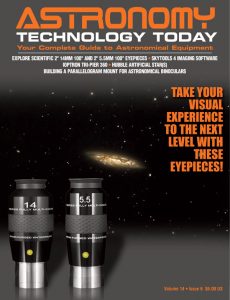 And to make it easier for you to get the most extensive telescope and amateur astronomy related news, articles and reviews that are only available in the magazine pages of Astronomy Technology Today, we are offering a 1 year subscription for only $6! Or, for an even better deal, we are offering 2 years for only $9. Click here to get these deals which only will be available for a very limited time. You can also check out a free sample issue here.