The special edition single-shot color ZWO ASI128MC Pro camera is ZWO's first full-frame color astronomy camera. It utilizes a full-frame 24 megapixel CMOS Sony sensor with TEC-cooling.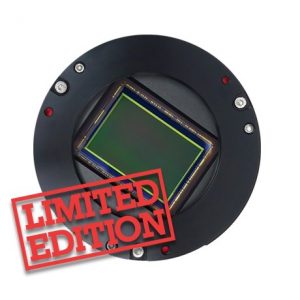 The ZWO ASI128MC Pro camera features the full-frame Sony IMX128 CMOS sensor with 6032×4032 resolution, 5.97-micron pixel size, 76000e full well capacity, and peak QE of 53%. The 36mmx24mm sensor provides the ability to capture detailed, low-noise, and extremely sharp color images of deep-sky objects such as diffuse nebulae, supernova remnants, and large galaxies and galaxy clusters. The IMX128 CMOS sensor offers a new level of performance in high image resolution and quantum efficiency, lower read noise, and faster image transfer rates.
The 'Pro' designation of the camera comes from its internal 256MB DDR3 buffer for quick and stable data transfer and reduced amp glow. The USB3.0 port offers a fast 7 fps capture rate at full resolution with 14-bit ADC and 2.5e read noise. The TEC cooling system brings the sensor temperature down to 35oC below ambient to keep sensor noise as low as possible, even on warm nights.
The camera incorporates a 6W dew heater to keep its AR-coated window free of moisture during imaging runs. You can switch the heater off with the camera control software to save power on nights when the humidity is low. The camera also includes a unique tilt adapter to reduce issues related to the tilt angle of the front of camera.
The camera draws 650mA@5V, more than cameras with smaller sensors, but it can still draw all the power it needs from its main USB3.0 port. The camera's TEC cooler requires 12V@3A provided with an external power supply (not included). If the camera is powered with a USB2.0 host, the external 12V power supply is also required. The ASI128 incorporates a USB2.0 hub for powering accessories such as a guide camera and electronic focuser.
The ZWO ASI128MC Pro camera has a diameter of 86mm and weighs 640 grams. It comes with a padded carrying bag, M42-M48 adapter, M54-M48 21mm extender and M48-M48 16.5mm extender, 2" cover, USB3.0 and USB2.0 cables, and a quick-start guide.
Features include:
– DDR Memory Buffer includes one 256MB DDR3 memory buffer for data transfer stability
– Low read noise, high dynamic range, 53% peak QE and AR protection window are major advantages of the ASI128 Pro
– The IMX128 has a higher resolution, QE and lower read noise and faster FPS than old full frame CCDs
– Unique tilt adapter included
– 2 stage TEC cooling system included to allow up to -35°C below ambient cooling (an external power supply is needed)
– Anti dew heater for heat power at 6W to prevent dew. Can be turned off via software
– 5Gb bandwidth provided by USB 3.0 port allows the ASI128 Pro to run at 7fps (14 bit) or 10 fps (10 bit high speed) at 24mp resolution
– USB 3.0 provides 1000mA current meaning an external power supply isn't needed to run camera
– External 12v power supply needed if connecting camera with USB 2.0 host (500ma provided), or 3A or more DC adapter for cooler power supply is suggested
– Battery from 9-15V is also suitable for cooler power supply
– Filter wheel, guide camera and electronic focuser can be connected with USB 2.0 hub.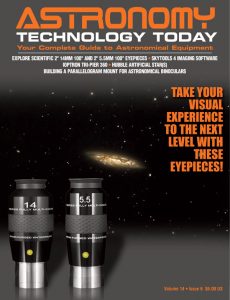 And to make it easier for you to get the most extensive telescope and amateur astronomy related news, articles and reviews that are only available in the magazine pages of Astronomy Technology Today, we are offering a 1 year subscription for only $6! Or, for an even better deal, we are offering 2 years for only $9. Click here to get these deals which only will be available for a very limited time. You can also check out a free sample issue here.