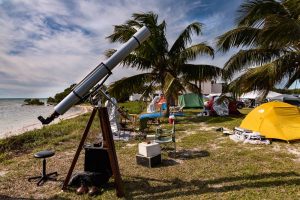 The 2019 Winter Star Party "WSP" will be held at Camp Weesumkee in 2019 from February 4 – 10. The upcoming event will feature its long-awaited return to the Florida Keys as it was displaced in 2018 due to the devastating effects of Hurricane Irma. It has taken a tremendous effort to get the venue back as remembered and the hosts assure everyone that, as always, attendees will experience great skies, interesting lectures, fine vendors, and a door prize extravaganza.
Of course, for those living in cold winter climates, the event is unique in that it occurs mid-winter during the height of the Florida Keys tourist season. The warm weather, coupled with dark skies and possibly the steadiest skies in North America, attracts attendees from all over the frozen United States, Canada, and Europe giving the event an international flavor.
The event has been held during a new moon week each February since 1984 and now approximately 650 amateur astronomers from around the world travel to the warm subtropics of the Florida Keys. During the event attendees experience nightly observing in 360 degrees of clear steady night skies, exchange information and advice on the hobby, meet SCAS members and distinguished guest speakers, shop for astronomical equipment from the finest vendors across the globe, participate in photo contests & workshops, go sightseeing in the "Conch Republic," and record the awesome beauty sparkling in the southern night skies.
Registration for the event is $150. Camping is available at $85 per person. Fees for trailers, small campers or pop ups are $50 and fees for RV 15′ and larger are $130.