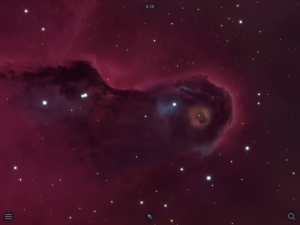 Fifth Star Labs' Sky Guide iOS app enjoys a near perfect score of 4.9 from the almost 70,000 users who have taken the time to rate it … which is, well, astonishing. There is ample reason for its popularity, though, given the WOW! factor of its thousands of breathtaking celestial images, but now there's even more to enjoy – the 1.7 billion stars of the Gaia dataset – access to which requires a $9.99US annual subscription to its "Supermassive" option.
1.7 billion stars is a lot of data to load into your mobile device. Indeed, too much for many devices. So, Fifth Star Labs opted to include roughly 100 million of the stars, which data requires a gigabyte of in-device storage. The remainder are streamed from the cloud, as needed, but the developers have ensured that this process is fast and seamless.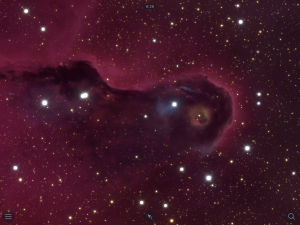 How does this new wealth of data translate in actual app images? Image 1 of the Elephant Trunk Nebula region of IC 1396 is before addition of the Gaia dataset, Image 2 is after. While more is not always better, this is one of the situations where it definitely is. But $9.99 a year? In our opinion, it's a small price to pay.