With greatly improved optics over its predecessor, the Orion 8- to 24-mm Pro Lanthanum Zoom eyepiece ($199.99US) now features high-end lanthanum glass lens elements, which greatly minimize chromatic aberration. The result is clean, crisp images free of color fringing.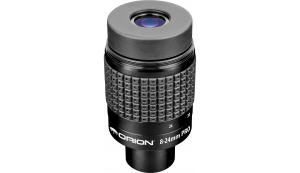 Ideal for both astronomical and terrestrial visual applications, this new zoom eyepiece can go wide or zoom in close, boasting a smooth, continuous focal-length range from 8 mm to 24 mm. Since the focal length determines the magnification, this means you can quickly set the zoom to achieve any magnification you desire within its range – with just a twist of the housing.
For the discriminating observer, the visual rewards will be immediate and obvious, especially compared with cheaper zoom eyepieces. The Pro Lanthanum Zoom's unique parfocal design keeps your view in focus as you change magnification, so you can spend more time viewing and less time focusing, which is especially useful when tracking moving objects.
Its large, rubber grip ring provides smooth magnification adjustments in any weather conditions. And speaking of which, the Orion 8- to 24-mm Pro Lanthanum Zoom is now waterproof, so you'll have no worries about a little drizzle while you're watching that wildlife in the distance at the park. Also, the twist-up rubber eyeguard blocks ambient light and helps keep your eye in the optimal position to take in the entire view.
The 8- to 24-mm Pro Lanthanum Zoom's optics comprise eight lens elements in six groups, with five of the elements made from lanthanum glass. Eye relief is a comfortable 20 mm through the zoom range. The apparent field of view ranges from 40 degrees at the 24-mm setting, to a wide 60 degrees when set to 8-mm. The 1.25-inch eyepiece barrel is tapered to prevent accidental slip-outs and is threaded for use with 1.25-inch filters.