The headline says it all: "Motion Sensing." Which means, no more fumbling for a tiny switch.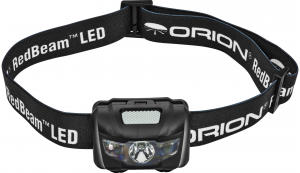 You wear a headlamp to keep both hands free, but how free is your dominant hand when its priority is turning your headlamp on when needed and off when not. In addition to its adjustable brightness red LED light (5-, 10-, 50- or 100-percent illumination), Orion Telescopes & Binoculars' unique RedBeam LED Motion-Sensing Headlamp ($14.95US) features a completely hands-free mode that allows you to turn the light on and off with the wave of your hand. Simply wave your hand approximately 4 inches in front of the LED, and a sensor detects the motion, turning the light on and off.
And if you're worried about moving your head around and objects in front of you triggering the sensor when you don't want it to, fear not. The sensor is focused to 4 inches away, so nothing in the distance will trigger the light. And our favorite advantage of the sensor – no more fumbling for an awkward power button in the dark when it's cold and you've got thick gloves protecting your hands.
The RedBeam LED Headlamp is perfect for reading star charts while in the field at the lower brightness setting, so you won't disturb your night vision, and for walking around your campsite or packing your equipment up for the night when using the brighter settings. It is powered by three included AAA batteries and is adjustable to aim straight out or angled downwards towards the ground when worn.