Since 1985, Astronomy Shoppe's Anthony Costanzo has been in the business of repairing telescopes of all designs and brands.
Indeed, for years he has been our go-to guy for repair of arcane telescope electronic systems, especially those treasured scopes for which manufacturer support lapsed long ago. With more than 58 relevant certifications in such computer systems, it's little surprise that Anthony's electronics skills remain in high demand by amateurs and professionals alike.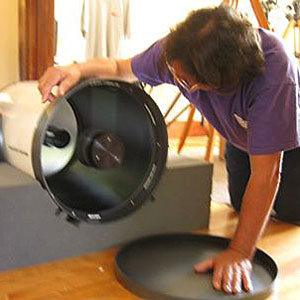 But why wait to consult him until years after your investment? Might his training and experience have greatest value before you make a telescope investment? To make that point, Anthony is now offering a service he calls Scope 101 and Scope 101+.
Because you read this website, it's not likely you require his most basic Scope 101 service: explaining how all telescope systems work and what you can expect to see and image with the myriad options offered by available through the modern astro-tech industry.
But which is the most economical, not only in terms of initial investment, but to maintain and operate for decades into the future? What telescope system, regardless of brand, is best suited to your peculiar challenges? And in this increasingly-digital age, what telescope electronic systems are most likely to return decades of reliable service?
Of course, Astronomy Shoppe is in the business of selling telescope systems, as well as repairing them, but even if it doesn't stock your optimum telescope option, Anthony will guide you to a trusted dealer who does.
Astronomy Shoppe's Scope 101 consultation service is priced at $35US. Or take things to the next level with Scope101+ at $65US.