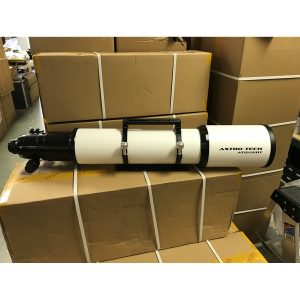 Astronomic's new Astro-Tech 152EDT f/8 triplet apo refractor ($3999US) features a massive 3-inch rack-and-pinion focuser with a built-in camera-angle adjuster. The triplet objective includes a low-dispersion FK-61 ED element, as well as a Lanthanum element.
The OTA (with rings and both dovetails) weighs 29 pounds (13.1 kilograms). The focus tube includes a threaded 4-inch anodized extension that can be removed to accommodate a binoviewer or to make room for crazy-long imaging trains.
Also included is a 2-inch quick-lock adapter, as well as a 2 inch-to-1.25-inch quick-lock compression-ring adapter. A thread in 3.0-inch, 0.72x reducer/field flattener is also available for $249US.