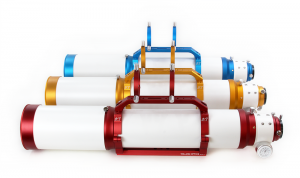 The heart of William Optics' new 2018 Super ZenithStar 103 f/6.9 imaging apo is a f/6.9 air-spaced FPL53 doublet housed in a CNC-machined ultra-precision lens cell. Add a 0.8x flattener/reducer, and the focal ratio becomes f/5.5.
Focus duties are performed by an ultra-robust 2.5-inch, 1:10 dual-speed, rack-and-pinion focuser with 1:10 dual speed designed specifically to meet the unforgiving demands of astrophotography. No image shifting.
Despite its generous aperture, the ZS103 ($1198US) is compact and portable with a retracted length of 615 mm (24.2 inches) and weight with tube rings and dovetail of 4.36 kilograms (9.6 pounds). The scope ships with mounting rings, guide rings, a CNC carry-handle bar, a Vixen-style dovetail plate and the afore described 2.5-inch rack-and-pinion focuser. WO even includes an innovative Bahtinov focus mask.
Optional accessories include WO's 2-inch Rotolock M63 and a 1.25-inch Rotolock visual back adapter, a full-frame 0.8x flattener/reducer and a soft-side carry case.