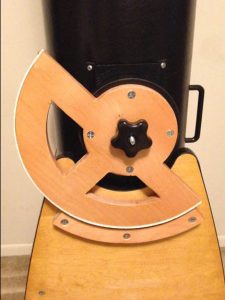 AstroGoods is now offering an upgrade for Dobsonian telescope owners who have small 5″ or 5.5″ factory installed altitude bearings and want larger ones without the need for making new cutouts in the side boards of their mount. These new replacement 12-inch bearings offer a virtually drop in option that should eliminate the need for springs or clamps to keep balance and provide finer altitude motion.
The new bearing kit offers smoother motion, finer control, greatly improved balance without springs or counterweights, and no lateral slippage. AstroGoods 12-inch bearing mounts on existing the altitude bearing and ride outside your mount's side-walls on a support bracket with Teflon pads.
Go to AstroGoods altitude bearings page to learn more.