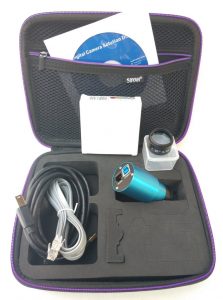 Revolution Imager's new Revolution ONE Imager is based on Sony's IMX287 sensor and is the company's newest addition to the one-shot short exposure field of electronic assisted astronomy.
Revolution Imager has partnered with camera manufacturer Touptek to offer a package of everything needed to get started with the camera (except a computer). The camera features Sony's IMX287 large pixel (6.9 micron), low-noise CMOS sensor. The camera offers one of the closest "live" analog video astronomy experience over a modern USB interface. The camera is also entirely powered by a computer's USB port, so just a single cable is required for usage.
The camera package includes are the camera, cable, software, focal reducer, IR filter and carrying case. The camera comes bundled with Touptek's Toupsky software which full of features such as live stacking, histogram controls, dark field correction and time lapse recording. The camera has an ASCOM driver meaning you can use it with other software, such as Sharpcap.