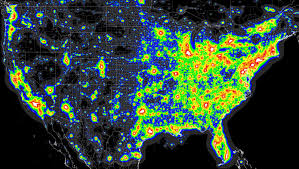 The ever-growing impact of light pollution is making it increasingly difficult for amateur astronomers to find dark sky sites that are convenient to visit without driving a long way.  (For more information about light pollution and how to reduce it, visit the International Dark Sky Association.)
The Dark Sky Finder website was created to provide a simple way to find areas that conducive to viewing the night sky. It provides maps, driving directions and more.
Before looking for a dark site, consider what it is you want to see. For many people getting to a 100% dark sky is not possible without spending an entire day driving. But if you look for a site where the sky is only dark in the direction you want to observe, it becomes easier. For example, if you want to see the core of the milky way galaxy, look for a place that is dark to the south with no major cities in that direction.