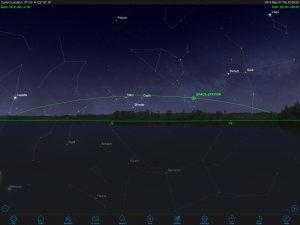 Tim deBenedictis, one of the original SkySafari app developers, recently announced Orbitrack, his first independent app in four years through his Southern Stars app development firm.
Orbitrack is a thorough rewrite of Southern Stars' 2013 Satellite Safari app offering a brand-new, augmented-and-virtual-reality satellite tracker and spaceflight simulator.
Here's an overview of what's new:
– Twice as many spacecrafts as Satellite Safari, including classified military satellites, from an all new data source (n2yo.com).
– Rich new graphics and fantastically detailed new satellite models.
– A voice-controlled virtual reality mode that works with any smartphone VR viewer (iPhone only).
– Supports the latest Apple hardware and software: iPhone X and iOS 11.
– Iridium flare predictions.
– Amateur radio satellite frequencies.
– New time flow controls for animating the view.
– New sound effects and dozens of interface tweaks.
Orbitrack is available now on iOS for $4.99US, with an Android version for later release.