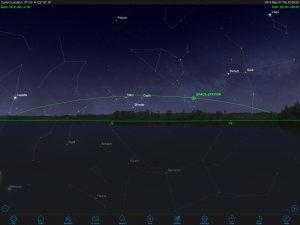 The Orbitrack app is a thorough rewrite of Southern Stars' 2013 Satellite Safari app offering a brand-new, augmented-and-virtual-reality satellite tracker and spaceflight simulator.
Track thousands of satellites – in orbit and overhead!
Orbitrack will tell you when spacecraft pass overhead, show you where to find them in the sky, and let you track them across the planet.  A new Augmented Reality (AR) Sky view blends video from your phone camera, GPS, and motion sensors to display satellites as they cross your sky.
Get the "Bird's" eye view
You can show the view from any satellite, and see the Earth from orbit just as the "bird" sees it!  Orbitrack includes detailed 3D models for dozens of satellites – see them up close from any angle!  If you have a smartphone VR viewer, you can see them in stereo.  It's the most realistic spaceflight experience you can get without leaving the planet!
Stay on top of the space race
Fascinating mission descriptions will teach you about the International Space Station, and hundreds of other satellites in orbit.  Orbitrack updates its satellite data from n2yo.com and celestrak.com every day.  When new spacecraft are launched, maneuver into new orbits, or fall back into the atmosphere, Orbitrack shows you what's happening up there, right now.
Publisher Power and Simplicity
Orbitrack isn't just powerful – it's incredibly easy to use!  You don't need an aerospace degree to become an expert satellite tracker.  Orbitrack puts advanced capabilities at your fingertips, with the same intuitive touch interface you use every day.  And if that's not enough, it includes detailed, built-in Help – and expert, responsive technical support.
Available now for iOS and Android
Orbitrack for iOS and Android is available today on the iTunes Store and Google Play. The iOS version requires iPhone 6 or iPad 2 running iOS 10 or later, and supports iPhone X/XR/XS, iPhone 11, iPad Pro, and iOS 12 and 13. Orbitrack is now available for Android too!  It requires Android 4.4 or later, and supports Android 10.  It's a 64-bit Android app that runs on Android devlces with both ARM and x86 processors.
Two features present in Orbitrack for iOS are not yet available in the Android version: camera-blended Augmented Reality, and voice-controlled Virtual Reality.  These will be added to the Android version in forthcoming updates.  Otherwise, the iOS and Android versions are feature-identical.
Here's a short overview of what's available in the Orbitrack app:
– Twice as many spacecrafts as Satellite Safari, including classified military satellites, from an all new data source (n2yo.com).
– Rich new graphics and fantastically detailed new satellite models.
– A voice-controlled virtual reality mode that works with any smartphone VR viewer (iPhone only).
– Supports the latest Apple hardware and software: iPhone X and iOS 11.
– Iridium flare predictions.
– Amateur radio satellite frequencies.
– New time flow controls for animating the view.
– New sound effects and dozens of interface tweaks.
The Orbitrack app is available on iOS and Android.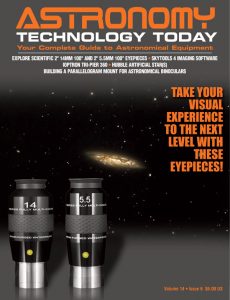 And to make it easier for you to get the most extensive telescope and amateur astronomy related news, articles and reviews that are only available in the magazine pages of Astronomy Technology Today, we are offering a 1 year subscription for only $6! Or, for an even better deal, we are offering 2 years for only $9. Click here to get these deals which only will be available for a very limited time. You can also check out a free sample issue here.