Optec has released a new FocusLynx driver package allowing control of multiple hubs from a single computer for telescope focuser control.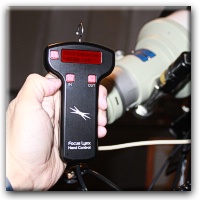 This public beta release software can be used with a single FocusLynx hub or several hubs at the same time. Each hub can control up to two focusers through the standard ASCOM chooser. Intelligent instance control keeps track of which ASCOM client is connected to which focuser.
From the Optec beta driver download page: Any-CPU setup program for the FocusLynx Commander Hub Control Program and Multi-Instance ASCOM Driver. Driver with advanced setup options for the Optec TCF-Lynx, DirectSync and QuickSync focusers.  Includes multiple instance ASCOM local server software driver, and expanded help file. NOTE:  You will need to unzip this file into a temporary folder and double-click the setup.exe installer program. ASCOM driver requires Platform 6.0 or later.
If you own two or more FocusLynx or FocusBoss II control hubs, Optec invites you to download and try the new software today.
The FocusLynx Dual-Focus Control System and the FocusLynx Hand Controller has a proven track record with years of field experience offering multiple connection methods and the capability of operating two focusers simultaneously.  With full ASCOM compliance and multiple connection methods, FocusLynx is the most advanced telescope focus controller available.