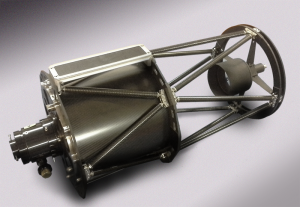 Officina Stellare has announced its acquisition of Knaeble Optical Systems, a well-known German company appreciated for its professional full-carbon and titanium f/8 Ritchey-Chretien telescopes. Production of Knaeble R-Cs will continue to be based in Berlin, ensuring that, although products in the Knaeble R-C line may be redesigned, their renowned quality will be strictly maintained.
Pricing, however, will change, positioning the Knaeble line between mass-produced options and the ultra-premium R-Cs from Officina Stellare. Thus, Knaeble R-Cs will fill the previously-unserved gap demanded by users who desired a higher-quality telescope without the expense of professional options.
Existing apertures of Knaeble R-Cs – 300, 350 and 400 mm – will continue, and a new 500-mm version will be available soon. All will continue to employ a pure R-C optical scheme, with a dedicated corrector available as an option. A new reducer, designed and manufactured by Officina Stellare, will also be available soon.