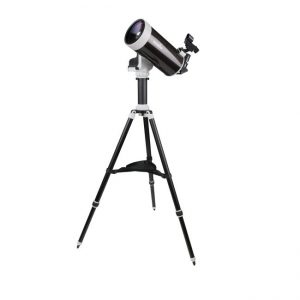 Sky-Watcher USA's AZ-GTi alt-azimuth mount ($379US) is for anyone looking for a small, powerful go-to mount. Weighing just 8.6 pounds – complete with pier extension and tripod! – this versatile mount supports a hefty 11-pound payload.
The AZ-GTi is available in three configurations: (1) mount set only, (2) with a 102-mm Maksutov-Cassegrain ($555US), or (3) with a 127-mm Mak-Cass – shown here ($725US). Whichever option you select, the AZ-GTi is the perfect grab-and-go go-to system for the astronomer on the move.
The mount includes the mount head, a pier extension and a tripod, and features Sky-Watcher USA's Sky-Freedom Find dual-encoder technology and a SynScan go-to database of 42,000+ objects. Oh, and it has built-in Wi-Fi, too!
Specifications for the mount include:
– Mount Type: Motorized alt-az
– Tripod: Adjustable height, aluminum tripod legs, accessory tray
– Power Type: 8 AA batteries or external 12V power supply
– Slew Speeds: 800x, 600x, 400x, 200x, 32x, 16x, 8x, 2x, 1x
– Tracking Rates: Sidereal, Lunar, Solar, Alignment-free Solor tracking
– Database: Complete Messier, Caldwell, NGC, IC and SAO catalogs, user defined objects. Total 42,900+ objects
– Mounting Saddle Type: V-Style
– Fully Assembled Weight (with weights): 8.6 pounds
– Payload Capacity (lbs): 11 pounds
SkyWatcher USA has released a host of new products this year, check them out here.