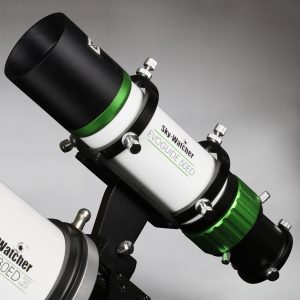 Sky-Watcher USA is noted for its quality apos, and the new Evoguide 50 ($275US), its smallest, is also among its most intriguing, not the least because it features a matched lens assembly, which includes an ED element, earning it the ED Doublet "apo" designation.
With a focal length of just 242 mm, it is f/4.8-fast for superb widefield performance and includes a 1.25-inch helical focuser and a finder-mount stalk. Grab this little scope and you can travel the world, your local hiking dark sky site, or just anywhere you want to go.
And the best news is the little hi-performing ED Doublet apo telescope is its price – only $275US.
Specifications include:
– Optical Design: ED Doublet
– Focal Length (mm): 242
– Focal Ratio: 4.8
– Lens Elements: 2
– Lens Glass: Matched lens assembly with one ED element
– OTA Length: 8.875 inches / 10.5 inches with extender
– OTA Outer Diameter: 2.2 inches
– OTA Weight (with accessories): 1.9 pounds
Sky-Watcher USA has released a host of other new products this year, check them out here.