Ditch the cigarette lighter plug to power your telescope gear. No, really, you know they were never reliable and never were a good fit for amateur astronomy equipment.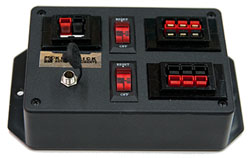 Instead, upgrade to Kendrick Astro Instruments LINX Power Panel.
At just 5.5 by 3.5 by 1.5 inches and only 7.0 ounces (14 by 9 by 3.8 centimeters and 198 grams), Kendrick's new LINX Power Panel ($212.75US) is small enough in size and weight to mount atop your telescope and deliver up to 30 amps to all your power-hungry on-board devices. It's even available with a built-in 8-volt DSLR power supply ($250.74US).
It's easy to convert your existing cords to the new Anderson Connectors, and Kendrick great support staff who will happily walk you through the process. Anderson Connectors are clever "gender-less" connectors, which allow you to mate plugs to make extension cords.
Kendrick Astro Instruments offers pre-welded (glued) pairs of plugs complete with 30-amp contacts. Each pair can be snap-locked to other pairs to make a nifty wiring harness.
Kendrick also sells un-welded Anderson Connectors for crafting extension cords.