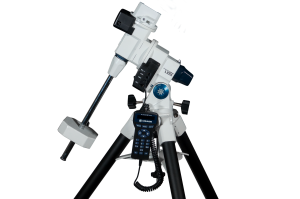 Meade's New LX85 German Equatorial Mount (GEM) is now finding its way to astronomy products retailers. Limited supplies are now being shipped to retailers with higher quantities to be available in October in advance of the holiday shopping season.
The LX85 joins a popular niche in the market of portable mounts capable of handling a wide variety of telescope optical tubes and equipment. It features a Vixen-style dovetail receiver for mounting observing equipment up to 33 pounds, offering a sturdy build and low-cog servo-motors for smooth tracking performance which can handle slight load imbalances with ease.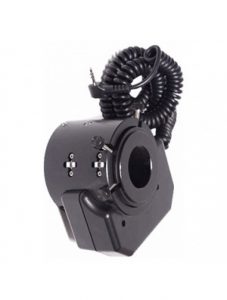 With its built-in integer-gearing motor drive, you'll be able to track through long exposures using Meade's Smart Drive feature for recording permanent periodic error correction (PPEC). You can image the best parts of the night sky without having to worry about performing a meridian flip.
The LX85 mount also includes an integrated autoguider port to connect to your autoguider camera, making your astro-imaging experience easy and straightforward. The LX85 is compatible with the Meade Zero-Image Shift Electronic Micro focuser and wired illuminated reticles.
With the AudioStar hand controller, you have direct access to over 30,000 objects with a simple button click. AudioStar's Astronomer Inside technology features a built-in speaker that plays over four hours of educational content about the celestial objects you view.
Meade's new LX85 mount is priced at $700US and is also available packaged with a matching 6-inch f/10 Advanced Coma-Free (ACF) for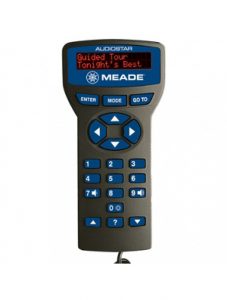 $1399US, an 8-inch ACF for $1799US, a 6-inch f/12 Maksutov-Cassegrain for $1399US, a 5-inch f/5.8 refractor for $1199US, a 70-mm f/5 astrograph refractor for $1899US, an 80-mm f/6 apochromatic refractor for $1699US, a 115-mm f/7 apochromatic refractor for $2499US, an 8-inch f/5 reflector for $1149US, and a 6-inch f/5 reflector for $949US.