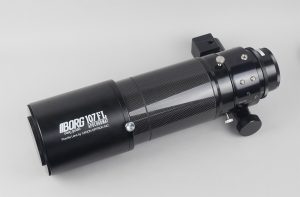 AstroHutech recently tested the BORG 107FL, optimized for imaging at a blisteringly-fast f/3.9 thanks to a BORG-proprietary six-element advanced Petzval optical design.
AstroHutech owner Ted Ishikawa tells us, "As far as I know, this may be first optical design utilizing both fluorite and ED elements in same optical train."
The apochromatic astrograph is shown here configured with a Starlight Instruments Feather Touch "True 3-inch" focuser fitted with a Starizona Micro Touch autofocus system. The resulting assembly is the heaviest among the current BORG systems at 4.6 kilograms (10.1 pounds), but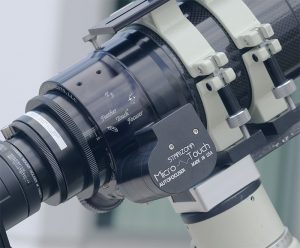 that's still remarkably lightweight for a premium refractor sporting a high-end 3-inch focuser plus a motorized autofocus system.
As with all BORG optical systems, the 107FL can be custom configured to meet any imaging challenge you might encounter. For more information, visit www.sciencecenter.net.