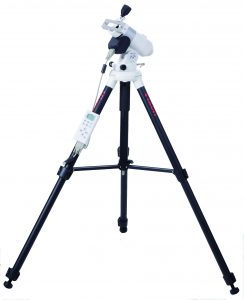 Vixen's Advanced Polaris Mount offers an easy to use, versatile telescope mounting system designed to incorporate functional modules that can be configured to produce a highly-portable system optimized for your particular application.
The Advanced Polaris Mount system is offered in four basic configurations: Alt-AZ, Manual German EQ, Motorized German EQ and Photo-guider. Each mount module can be upgraded with additional motors/features. The system is designed to be mated with Vixen's capable APP-TL130 Tripod.
The Advanced Polaris Alt-Az configuration has full-circle slow-motion controls, weighs 13 pounds (5.9 kilograms) and has a payload capacity of 18 pounds (8.2 kilograms). A motor module controlled by Vixen's STAR BOOK ONE can be added to this configuration.
The Advanced Polaris EQ configuration yields a grab-and-go equatorial mount with slow motion friction controls and a payload capacity of 13 pounds (5.9 kilograms). It, too, can be set up in a motorized configuration, including control via the STAR BOOK One hand controller, for accurate tracking.
The Advanced Polaris Photo-guider configuration includes all modules required for long-exposure astrophotography, including motor-drive modules.
Vixen's APP-TL130 Tripod is purpose designed for use with the Advanced Polaris Mount system, but can also be used with Vixen's Porta II, GP Mounts and fork mounts. This sturdy three-section tripod weighs in at only 7.0 pounds and offers a compact collapsed length of approximately 24 inches. The legs are adjustable from 22.4-inches to 51-inches and the overall height is adjustable from 20.7 inches to 45.6 inches.
Vixen's Advanced Polaris Mount systems are retail priced based on configuration. More information is available on their website.