iOptron calls it "level and go," the term it uses to describe its AZ Mount Pro's simple set-up routine. Using its built-in precision level indicator, you simply level the mount and turn on the power – the computerized alt-azimuth telescope mount takes it from there.
Utilizing an on-board 32-channel GPS receiver and built-in position- and angular-detection sensors, the AZ Mount Pro calculates its global position as well as the supported telescope's orientation, then automatically slews the telescope to an easily-identifiable bright object. The user needs only to confirm that the object is in view to activate tracking and go-to functionality.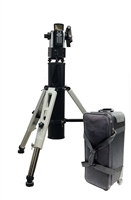 Features and specifications include:
– On-board rechargeable lithium-ion battery for up to 10 hours of use;
– 33-pound primary payload and 10-pound secondary payload capacity with a mount weighing only 13 pounds.
-Whisper-quiet, low-power-consumption stepper motors.
– Go2Nova 8407 hand controller featuring a library of more than 212,000 objects with an eight-line illuminated LCD screen.
– Built-in WiFi adapter for full ASCOM, iOptron Commander and Sky Safari wireless control.
– Zero-backlash drive system.
– Serial port for computer control and firmware upgrades.
– Retractable counterweight shaft.
– Position memorization in the event of power interruption.
– Die-cast aluminum body.
– Three-point easy level adjustment on tripod.
– 6-inch dual dovetail (Losmandy and Vixen formats) saddle.
– Stands a mere 10 inches tall (mount head only).
– Built-in 32-channel GPS receiver.
– 4.5-kilogram (9.9-pound) counterweight included.
iOptron's AZ Mount Pro includes a 2-inch heavy-duty stainless-steel tripod with a captive spreader. The bottom of the mount base features three holes that align with level-adjustment screws on top of the tripod hub. These provide for precise adjustment against an integrated bubble level.
The AZ Mount Pro is priced at $999US. Optional Accessories include an iOptron tripod, tri-pier, rolling case, counterweights and more.