With each new advancement in the technology available to amateur astronomers, the line between amateur and professional – already barely distinguishable – is further blurred.
There may be no better example than the feats of a group of amateur astronomers who call their group the Backyard Observatory Supernova Search (with the enviable acronym "BOSS"). The BOSS group, consisting of Greg Brock, Peter Marples, Stuart Parker, Brendan Downs, Pat Pearl and Colin Drescher, is credited over 140 supernova discoveries … and counting.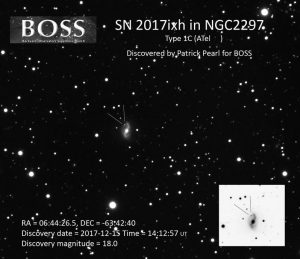 Their latest discovery is Pearl's first. On December 15, 2017 14:10:36 he discovered supernova 2017ixh in NGC2297. The coordinates were (J2000): RA = 06:44:26.50 (101.11042) DEC = -63:42:40.00 (-63.71111) – see Image 1.
The BOSS team has not only proved that scientifically-significant discoveries are within reach of all dedicated amateurs, it has also established beyond argument that such discoveries are also within reach of astro tech that is readily available to amateurs.
Greg's current search instrument is an SBIG ST10XE mated to a 14-inch Meade LX200R on a Losmandy G11. Peter uses a Starlight Xpress SXVH9 and a 12-inch Meade LX200R. Stuart's rig consists of an SBIG ST10XME imaging through a 14-inch Celestron SCT on a Paramount ME. Colin uses SLOOH's on-line remote telescopes in the Canary Islands and Chile. Brendon Downs conducts his searches with an SBIG ST8 imaging through a 14-inch Meade LX200ACF on a Paramount ME. Pat Pearl's current instrument of choice is a Starlight Xpress mated to a 10-inch Meade LX200R.
Inspiration can be found wherever dedicated amateur astronomers share their experiences, and you'll find several lifetimes worth at the BOSS website.