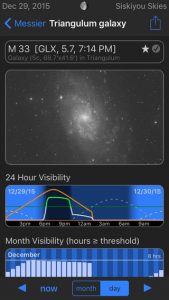 Observer Pro is an iOS app designed specifically for advanced amateur astronomy planning for those using iPhones, iPads iPod Touch. No guessing when that galaxy will emerge from behind that dastardly tree; no estimating how many hours you'll be able to image an object. It provides easy answers to these and other critical planning questions are right at your fingertips.
Featured highlights include:
– More than 14,000 deep-sky objects listed, all with close-up reference images – there is no need for additional downloads after the initial installation of the app.
-Measure your local horizon in minutes with your iPhone.
– Unique charts remove all guesswork from predicting object visibility – your house, trees, local mountains, or any other obstructions are factored into all visibility charts.
– Maintains a list of your favorite observing sites, each with its own local horizon, allowing comparison of object visibility between sites to identify the optimum spot for setting up.
– Integration of 7Timer astronomical weather forecasts for your observing sites, viewable without leaving the app.
– In-app tutorial (in Settings) explains how to maximize effectiveness of all of the app's many features.
– The simple, intuitive interface makes all of the app's powerful features readily accessible.
Observer Pro is priced at $13.99US and is available on the App Store.