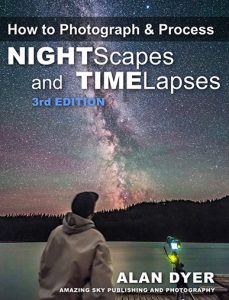 One of the most unique ways to enjoy imaging the skies is to use time-lapse techniques for nightscapes. For those that would like to learn more, Alan Dyer's interactive eBook, How to Photograph & Process Nightscapes and Time-lapses, covers the latest equipment, software, and processing techniques for creating great still images and time-lapse movies of the night sky.
Want to learn how to take panorama images of the Milky Way over scenic landscapes? How to create time-lapse movies of the stars appearing in a darkening sky? How to stack star trails and meteor shower composites? It's all here.
Now in its third edition, Dyer's 550-page eBook includes 18 embedded HD videos with examples of time-lapse techniques to illustrate the topic as no previous book has done. The eBook also includes 50 step-by-step tutorials on how to use software such as Photoshop, Lightroom and LRTimelapse.
The eBook appeals to both amateur astronomers and landscape photographers by providing the most comprehensive information available in an eBook on the new and hugely popular field of nightscapes and time-lapse photography.
Dyer takes readers from basic knowledge to advanced technique. Readers can learn how to buy the right cameras and lenses, the best exposure times to use, how to use sophisticated motion-control devices for creating cinematic time-lapse scenes, how to shoot and process advanced "holy grail" day-to-night time-lapses and much more.
How to Photograph & Process Nightscapes and Time-Lapses is available worldwide exclusively through the Apple iBooks Store, for the iBooks app on Apple Macs, iPads and iPhones. Price: $27.99 (U.S.).
You can check out an example video of Dyer's work here.
Here is an outline of what's in the book:
Chapter 1: Choosing and Using Gear – Choosing a camera; Setting a camera for exposure, file type, noise reduction, focus, and other menu functions; Choosing lenses, Choosing intervalometers.
Chapter 2: Twilight Time – Shooting still images of sunsets, twilights, conjunctions, moonrises, and twilight panoramas.
Chapter 3: Auroras – When and where to see auroras (Northern and Southern Lights); How to set your camera.
Chapter 4: Other Amazing Sky Effects – Shooting haloes and rainbows, lightning, satellites, noctilucent clouds, meteor showers, comets.
Chapter 5: Moonlit Nightscapes – How to set your camera; Choosing the right moon phase; Where will the Moon be?; How to plan a shoot; Shooting eclipses.
Chapter 6: Milky Way Nightscapes – Choosing your location; Setting your camera; How to plan a shoot (where is the Milky Way?); Shooting down under; Shooting Milky Way panoramas; Tracking the sky.
Chapter 7: Stitching, Stacking and Tracking – How to shoot HDR composites, star trails, panoramas, and tracked images.
Chapter 8: Reducing Noise – Best practices for shooting dark frames and multiple images for stacking.
Chapter 9: Processing Still Images (Basics) – Importing; Developing in Adobe Camera Raw; Processing in Photoshop; Using Lightroom, Using DxO and ON1 Photo RAW.
Chapter 10: Processing Still Images – (Advanced) – Stacking for star trails; Subtracting dark frames; Stacking HDRs, Stacking composites; Stitching panoramas, Using Affinity Photo.
Chapter 11: Taking Time-Lapses – Best practices for intervals and frame count; How to calculate a shoot.
Chapter 12: Advanced Camera Control – Advanced intervalometers for time-lapses; How to use Pan, Tilt, and Dolly motion control systems (Radian, SYRP Genie, eMotimo, Dynamic Perception, Rhino EVO); How to plan a motion control shoot.
Chapter 13: How to Shoot Holy Grails – Shooting "Holy Grail" day-to-night transitions; Avoiding flickering; How to "bulb ramp"; Three methods for shooting day-to-night transitions.
Chapter 14: Avoiding Common Problems – What can go wrong: Equipment issues (things you can control); Environment issues (things you can't); Tips and checklists for use in the field.
Chapter 15: Processing Time-Lapse Movies (Basic) – The basic Photoshop workflow: Import; Process in ACR; Exporting frames; Assembling movies (the many options); A Lightroom workflow.
Chapter 16: Processing Time-Lapse Movies (Advanced) – Using Adobe After Effects; Using LRTimelapse; Processing Holy Grail transitions and deflickering; Creating Ken Burns moves using Panolapse, Using Advanced Stacker Actions for star trail effects.
Chapter 17: The Final Cut – Editing your movie; Sources of legally usable music; Archiving and exhibiting.
Chapter 18: The Time-Lapse Lifestyle – The passion and dedication required; Are you ready?
Appendix: Learning More and Being Inspired – Where to learn more on the web and other recommended eBooks.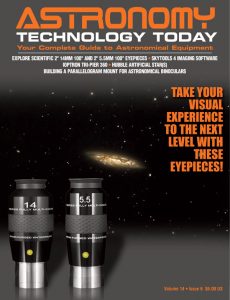 And to make it easier for you to get the most extensive telescope and amateur astronomy related news, articles and reviews that are only available in the magazine pages of Astronomy Technology Today, we are offering a 1 year subscription for only $6! Or, for an even better deal, we are offering 2 years for only $9. Click here to get these deals which only will be available for a very limited time. You can also check out a free sample issue here.