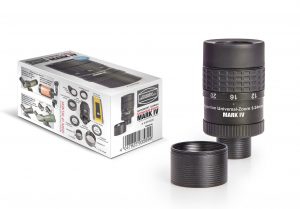 Baader Planetarium's famed Hyperion 8-24 mm Zoom eyepiece, now in its fourth generation, continues the line's High Quality Phantom Coating Group Multicoatings, for revealing faintest objects at maximum contrast with total freedom from reflections.
The Mark IV click-stop action – a must for binoviewing! – offers indents at five magnifications: 8, 12, 16, 20 and 24 mm. As before, this latest design provides long eye relief across the entire magnification range and a flatfield design that produces exquisite sharpness from field edge to edge.
The M43 threads allow for afocal and classical projection photography, permitting optional adaptation of practically any camera with optional accessories. The eyepiece incorporates a convertible 2-inch and 1.25-inch barrel design that is usable for all 1.25-inch binoculars with detachable eyepieces, as well as spotting scopes with 1 3/8-inch thread such as those by Celestron, Sky-Watcher and others.
A large, adjustable rubber eyecup, a smaller straight rubber eyecup and a winged, foldable eyecup are included and fit over the eyepiece's incorporated M43 photo/video thread.
Other features include: low weight (290 grams/10.2 ounces); a slim design of 55-mm diameter (perfect for binoviewing); Zero-Tilt safety kerfs instead of the hated undercuts in the barrels; 2-inch SC threads for shortest possible adaptation to telescopes or prisms/mirrors yielding a 4-mm back-focus gain with spotting scope A-Rings (included – the Mark IV focuses with all tested spotting scopes; optional adapters available for most major brands); sufficient distance to clamping screws with telescope adapter B-Ring (also included); and an eyepiece holster with belt strap, which can also be attached directly to tripod legs.
The Baader Hyperion 8-24 mm Mark IV Zoom is priced at €245, including VAT, or €205.88 without.