1: Oberwerk 6.5×32 LW Binoculars – Accommodating Wide-Ranging IPDs
Image 1 is a photo of six-year-old Spencer Hobbe, and Spencer is the primary reason I now carry Oberwerk's 6.5×32-mm LW binoculars. The little 6.5x32s deliver the widest interpupillary distances of Oberwerk's extensive product lines – 51 to 74 mm. It adjusts to fit eye spacing of would-be astronomers even younger than Spencer. So, equipping the little binos with Astro-Physics' Baader AstroSolar Film kit was an obvious choice during my cross country solar observing biking expedition preceding the Great American Eclipse 2017.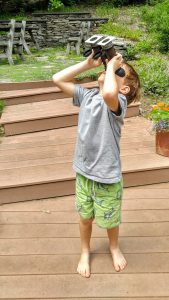 2: Oberwerk 6.5×32 LW Binoculars Price
Oberwerk has priced its 6.5×32 LWs at $69.95US. For that, you get: BAK4 prisms; full broadband multi-coatings; twist-up eyecups; a huge 8.0-degree true field of view; a rugged rubber-armored, waterproof build with nitrogen purging; captive objective and lens caps; a nylon case; plus, a neck strap. That's a lot of binocular goodness for less than 70 bucks!
3: Low, Handheld-Friendly Magnification
With binoculars, the lower the magnification, the steadier the handheld image, and that remains true whether it's a veteran observer or novice doing the holding. I've learned a trick or three about steadying handheld binos, but at 10x, image shake still tries my patience, particularly when aiming skyward. I prefer those with magnifications of 7x or 8x, but only because there are so few options that deliver even lower magnifications, so I was delighted to learn that this entry to Oberwerk's to its LW (lightweight) series does.
And it's not just my personal low-magnification preference that the Oberwerk 6.5×32 LW Binoculars accommodate. I've already handed the little Obies to thousands of guests, most of whom had never pointed binoculars skyward. Once they center the Sun, which is not easy given that the white-light solar filters offer little clue when they're getting close, they form opinions of the experience within seconds, and even seconds of jittery views can lead to negative impressions.
If first glimpses of the Sun or night-sky objects are to inspire lifelong fascination with astronomy, those early impressions must maximize the experiences, and 6.5x32s are perfectly configured to do just that.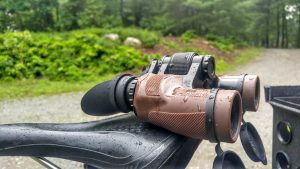 4: Expansive 8.0-Degree Field of View
It's not the most expansive available, but the 6.5x32s' 8.0-degree actual field of view is exceptional for binos of this price range, and you won't find many options that are significantly wider at any price. Oberwerk's classic 7×50 Mariners deliver 8.4 degrees – the widest true field of view of its huge selection of binoculars – but at twice the price and more than twice the weight.
At 8.0 degrees, the Oberwerk 6.5×32 LW Binoculars come very close to that wide-field ideal, and when panning the night sky for hidden gems, the wider the field of view, the better. Truth is, I'll take field of view over magnification every night – and day – and in that aspect, the little 6.5x32s deliver big.
5: Nitrogen-Filled, Waterproof Housing
 Moisture is not an issue with the 6.5x32s, because they too are sealed and nitrogen-purged. I've even used them in pouring rain to read distant road signs on my biking travels and they got thoroughly wet (Image 2), but no moisture leaked in. Oberwerk's website describes them as "waterproof," and I trust their word, but I've not independently confirmed that claim by submerging them. What I can confirm, from extensive personal experience, is that they are exceptionally water resistant.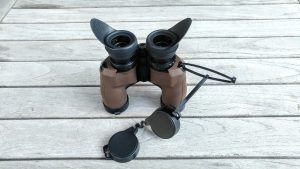 6: Long Eye Relief Plus Twist-Up Eye Cups
Eye relief is 19 mm with the eye cups fully retracted, more than enough to accommodate those who use them while wearing eyeglasses. For those of us who don't, the eye cups twist up enough for comfortable viewing while protecting our eyes from distracting stray light (Image 3). And the eye-cup extension mechanism feels positive and sure, just like the rest of the binos' construction.
Because I'm using the Oberwerk 6.5×32 LW Binoculars primarily for sharing white-light views of the Sun, I added winged eye cups to the twist-up cups, to better shield viewers' eyes from the glare of reflected sunlight. Plus, the winged cups give the binos a distinctive look of purposefulness to which guests often react with responses such as, "Wow! Those look like serious binoculars!" And they are, despite their low price.
7: Captive Lens Caps
I lose lens and eye caps in my biking travels. Captive caps might be awkward on telescope eyepieces, but I'm glad the little Obies have them. That's the only reason they're still with the binos.
As has become common with quality binoculars, the lens caps incorporate rings that attach them to the objective tubes. When removed, the caps dangle below the tubes, well out of the light paths (Image 2).
The eye caps are jointed into a single unit that slides up the neck strap when the binos are in use. As noted below, I don't use the neck strap, so to retain the captive aspect of the eye caps, I captured them with a couple of zip-ties (Image 3). It's not an elegant solution, but it works – I still have the eye caps.
8: Rubber-Armored Aluminum Body
The little Obies feel light and rugged, thanks to their rubber-over-aluminum construction. Aluminum isn't as light as magnesium, but we're talking 80 bucks here, and aluminum is a heck of an improvement over the all-plastic construction associated with many binoculars in this price range.
As for that rubber armor, I'm used to binos that are all-black, and these aren't. And you know what? I really like the change. The brown bodies with black trim achieve a distinctive ready-for-harsh-conditions look. But what's important is that the armoring has withstood hundreds of drops – did I mention it is primarily kids who use these things in my outreach? – albeit mostly on grass, and the littlest Obies still look and perform like new.
9: Nylon Case and Strap
In addition to lens and eye caps, the Oberwerk 6.5×32 LW Binoculars include a soft-side Nylon carry case and a neck strap. As noted, I'm not a fan of binocular neck straps so removed it at the potential cost of losing the captive aspect of the one-piece eye caps. But if I did use neck straps, I'd consider it adequate for the job. It's narrow, but he little binos are so light, the width of the strap hardly matters.
I store the 6.5x32s in the included Nylon case and, as I wrote earlier, the binos are in and out of the case constantly during clear days and have already been used hundreds of times in the few months I've carried them. When I'm riding, they are packed tightly against other gear carried in the Surly Big's large rear saddle bags. The bike has no suspension, so all gear is shaken constantly, offering plenty of opportunity for abrasion, but the carry case shows no sign of undue wear. I'm satisfied it'll long outlast my irrational desire to pedal a bike ridiculous distances.
10: Compact, Lightweight
Oberwerk's least-expensive binoculars are also its lightest and smallest, weighing in at just 1.07 pounds (0.49 kilograms) and measuring 5 by 6 by 2 inches (127 by 152.4 by 50.8 mm). There are even smaller options on the market – lots of them, in fact – but few that retain the traditional, cost-effective porro-prism design. The 6.5x32s are small enough that I simply leave them in my backpack to ensure they are always at hand when the need arises, because it so often does. They aren't the smallest binos I've used – those would be the 2.3×40 Contellation binoculars – but they may well be the most versatile.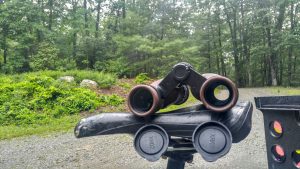 Conclusion
I don't know that I've ever used more worry-free binoculars, but given their durability and affordability, what's to worry? The best news is, despite their low price, Oberwerk's 6.5x32LWs deliver competent views. Edge performance isn't world-class, but I have binos costing hundreds more that produce poorer stars at the extremes.
Nor do images have the brightness or clarity delivered by premium options in this aperture, but those cost from many hundreds to thousands of dollars more, and the increases in light throughput and image fidelity at those premium levels of investment are, though noticeable, hardly proportional to the increased investment.
Despite the little Obies' low price, the full broadband antireflection multi-coatings are excellent – on axis, the front objective surfaces simply disappear (Image 4) – yielding maximum light throughput. And bargain binos tend to be collimation challenged. Indeed, many I've tried arrived laughably bad in that regard. But because these are Oberwerk's, you are assured of a premium level of quality control, despite the 6.5x32LWs' bargain-level price.
Although I knew these littlest Obies would be well collimated out of the box, I did not expect them to hold that level of collimation day after day of extreme travel and use. My sample of the 6.5x32s have survived the severest of real-life field testing, yet still perform and look as they did when new.
Oberwerk recommends the 6.5×32 LWs for children. I agree but also endorse them for any adult who wants a worry-free take-anywhere option for wide-field binocular views. I'm sold on them and suspect you will be too.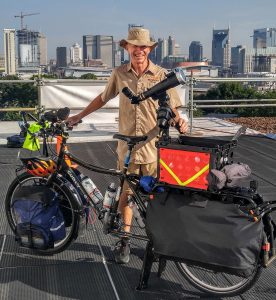 By Gary Parkerson
Astronomy Technology Today Executive Editor Gary Parkerson discovered early in his amateur-astronomy career that he was as fascinated by the tools of astronomy as by the amazing celestial objects they reveal – perhaps more so.
And to make it easier for you to get the most extensive telescope and amateur astronomy related news, articles and reviews that are only available in the magazine pages of Astronomy Technology Today, we are offering a 1 year subscription for only $6! Or, for an even better deal, we are offering 2 years for only $9. Click here to get these deals which only will be available for a very limited time. You can also check out a free sample issue here.