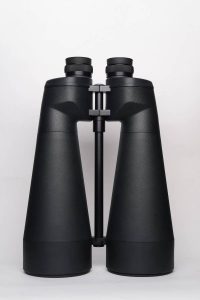 Yes, it's hot during the day during the Summer, but that makes it one of the best times to get out, enjoy the cooler evenings and see what the nighttime skies have to offer. And sometimes you want to grab and go without lugging around a bunch of equipment, eyepieces, etc.
That's why we like APM's high-quality MS ED series of binoculars so much for this time of year. These instruments are designed specifically for outdoor use – the entire line feature waterproof construction and are fully nitrogen purged for use in the rain or left unprotected on a tripod during showers without the worry of water infiltration. In addition to waterproofing, the binoculars are protected with durable natural rubber covering.
But of course, waterproof magnesium construction matters little if not matched to optics of equal quality, and here APM's MS binos shine, as well, featuring a high-specification BAK-4 Porro-prism optical system, along with ED objective lenses.
APM's MS ED binoculars are available in 80-mm and 100-mm apertures in configurations of 20×100, 25×100, 16×80 and 20×80. The big 20×100 MS binoculars weigh 3.853 kilograms (8.5 pounds) and measure 380 mm by 265 mm by 120 mm (height x width x thickness. Their objective angle of view is 3.3 degrees, yielding a subjective angle of view of 66 degrees and a field of view at 1000 meters of 58 meters. Interpupillary distance is adjustable from 56 to 74 mm, and eye relief is a generous 20 mm. The optics are fully multi-coated.
APM's MS ED binoculars ship with a carry case and a tripod adapter. The 20×100 and 25×100 MS ED binoculars are priced at 1090EUR, including VAT. The export price is 915.97EUR. The 16×80 and 20×80 MS ED binos are priced at 879EUR, including VAT and 738.66EUR for export. For more information, visit Apm-Telescopes.de.