The RAYOX saddle offers a unique auto engaging saddle for astronomical and terrestrial telescopes.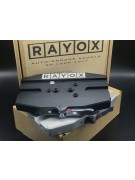 By automatically cinching down on your dovetail, the Rayox saddle virtually eliminates accidental drops of your OTA during setup, balancing or break-down. By using an auto-engaging cam-lever, users can easily lock their dovetail firmly into place by simply sliding it into the saddle, and smart design features like an integrated hardstop slot allow for adjustment without the dovetail slipping out of the saddle.
The RAYOX Saddle has multiple patent pending mechanisms designed to improve safety and ease of operation and is compatible with most German Equatorial Mounts and many Alt/Az mounts through the use of a number of different interface adapters.  The RAYOX saddle includes one interface adapter with purchase.
Rayox Saddle Plate Features Include:
– Cam-Actuated: A cam-lever located on the operator side of saddle controls the locking and unlocking of balance plate in the saddle.
– Auto-Engage: The Cam-Lever is automatically actuated when the balance plate touches down in the saddle.
– Balance-Position: The auto-engage function immediately moves the cam-lever to the balance position where the balance plate can freely move fore/aft to achieve perfect balance however the Balance-Plate cannot be removed vertically from saddle.
– Cam-Lever Safety: Cam-Lever can be easily moved between Balance-Position or Lock-Position but it cannot be moved to Open-Position without simultaneously sliding and holding the Cam-Lever safety mechanism.
– Integrated-Hardstop slot: The saddle has machined hardstop slots in floor of saddle that line up with socket head cap screw common to most balance plates. This combination allows most balance plates to move freely in fore/aft with increased travel, without being able slide out of saddle in either direction.
– Interface Adapters for popular mounts: Interface adapters for mounts from Astro-Physics, Takahashi, Celestron, Orion, Sky-Watcher USA and others.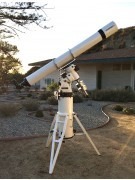 Rayox Saddle Plate Specifications include:
– Dovetail Compatibility: All D-Sized dovetail balance plates; adjustable for size variations.
– Mount Compatibility: Most commercially available mounts using specific interface
– Material, Main-Body: Aircraft grade 6061 aluminum alloy and 300 Series stainless steel alloy.
– Fasteners: Grade 8 or better alloy steel.
– Cam-Bolt: Grade 12.9 equivalent, Tensile Strength; 170,000 psi.
– Dimensions: Closed 8.5 x 5.5 x 1.0" (216 x 140 x 25mm)
– Dimensions: Open 8.5 x 5.75 x 1.0" (216 x 146 x 25mm)
– Weight: 2lb 14oz 1311g
Compatibility:
Current interface adapters are available for Astro-Physics GTO mounts, Takahashi EM-11, EM-200, EM-400 and EM-500 mounts, Losmandy GM-8, G-11, HGM Titan and AZ-8 mounts, Celestron CGEM, CGEM-DX, CGEM-II, and CGE Pro mounts, SkyWatcher EQ-8, EQ-6, AZ-EQ5/6, and EQ-5 mounts, Orion HDX-110, Sirius & Sirius Pro, Atlas & Atlas Pro. For mounts not listed here, there are adapters that are widely compatible with a range of brands and mounts.
The Rayox Saddle is available from Woodland Hills Camera and Telescopes. You can learn more at the demo video below.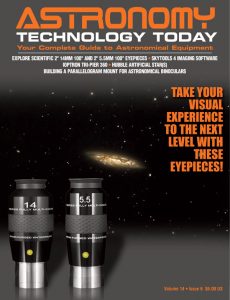 And to make it easier for you to get the most extensive telescope and amateur astronomy related news, articles and reviews that are only available in the magazine pages of Astronomy Technology Today, we are offering a 1 year subscription for only $6! Or, for an even better deal, we are offering 2 years for only $9. Click here to get these deals which only will be available for a very limited time. You can also check out a free sample issue here.