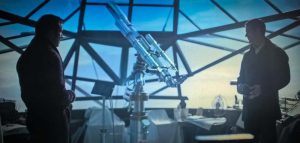 Viewers of the new original Netflix series Altered Carbon are given a glimpse into a future where humans can transfer their minds from body to body, and a rebel is brought back to life to solve a twisted, high-stakes murder case.
Based on an award-winning Altered Carbon cyberpunk novel by Richard K. Morgan, and starring Joel Kinnaman ("Robocop," "The Killing"), the series provides plenty of gee wiz futuristic eye candy for viewers. Included as part of this background is a custom retro/futuristic telescope created by the UK firm Moonraker Telescopes.
The Moonraker team got a call from the producers of the show back in late 2016 to create a telescope and mount for scenes in the series. They were given a short deadline of six weeks to start and finish the telescope. Since Moonraker scopes have always had a unique, futuristic design, the team was able to create a scope that perfectly fits the series ultra hi-tech feel.
Moonraker Telescopes will be producing a limited run of mounts and scopes based on this concept. To check out more, head over to the Moonraker website.
Check out the series trailer here: