Good To Stargaze is a new iOS and Android app that helps you plan your observing sessions and find dark sky locations.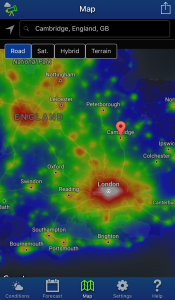 Providing detailed hour-by-hour forecasts of atmospheric conditions for any location on the planet, including cloud cover, visibility, seeing, transparency, and light pollution, as well as sun and moon rise and set times, moon phase, and visibility of the planets, these factors are combined into a simple color-coded "yes or no" summary for each hour, using thresholds users can customize to suit their needs.
The app also incorporates an up-to-date map of light pollution, and estimates light pollution on the standard Bortle scale for any spot on the globe.
The app is free, offering a subscription service to access forecasts beyond 24 hours, and is available now in Apple's App Store and on Google Play, as well as being accessed from your browser too at GoodToStargaze.com.