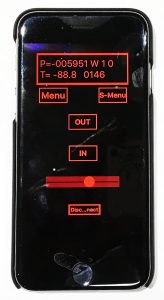 Rigel Systems' tried-and-true USB-nSTEP system for computer control of stepper focus motors is now available with Wi-Fi connectivity via Android and iOS smartphones, as well as Windows PCs and Macs.
Now you can fully control your focuser from your Android smartphone or iPhone remotely from 40 feet away … through walls! The system is great for tweaking the focus while viewing, or you can store up positions for different eyepieces and go to them with a click or two. Better yet, Rigel Systems has provided this new feature without a price increase.
Unfortunately, the Wi-Fi feature cannot be retrofitted onto older usb-nSTEP "with buttons" systems, but these still accept Bluetooth connectivity.
For more information on the Android app, click here. To review the PC application, click here. Click here for the Rigel Systems website.