Optical Structures, Inc. (OSI), the parent company of both Farpoint Astro and Lumicon, executed an agreement to take possession of JMI telescopes. OSI, welcomes the long history of JMI to its family of astronomy brands – Farpoint, Lumicon, Optic Wave Labs and now JMI).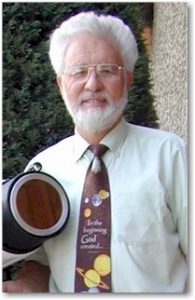 The acquisition marks the beginning of the operational transition from JMI's Denver facility to OSI's Sacramento campus. Effective immediately, all orders will be received through OSI's brand store located at www.farpointastro.com.
Physical transition began in late September and will require several months to move all inventory and production facilities to Sacramento. During this time, some items will ship from Denver and some will ship from Sacramento. OSI suggests that order fulfillment may take longer than usual during the transition period.
JMI founder Jim Burr, pictured, is looking forward to an active retirement, and OSI is looking forward to continuing his 35 years of excellent service to the astronomy community.