DualBeam 2600mAH LED Waterproof Astro Lantern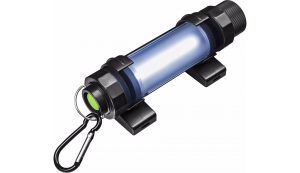 The multi-purpose Orion DualBeam Astro Lantern will illuminate your observing site in red LED light to help maintain dark-adapted vision while stargazing. The Orion DualBeam can also emit white light for brighter illumination when it's time to pack up your astronomy gear, or when you need extra light in the garage, around the house, or on camping trips. Two magnetic clips are included for hands-free installation on telescope tubes, car hoods, and other metal surfaces.
Thanks to waterproof and dustproof construction, the DualBeam Astro Lantern can be used in any weather. Whenever you need light, whether you're stargazing in a dusty dark-sky site or setting up a tent in a rainy campsite, the rugged Orion DualBeam 2600mAH LED Waterproof Astro Lantern is the ideal choice.
By clicking the power button, you can cycle though different illumination settings depending on your needs. Red light settings include 5-, 10-, 50- and 100-percent brightness. White-light settings include 10- and 100-percent brightness. When you no longer need light, simply press and hold the power button for approximately three seconds to turn off the Astro Lantern. You can turn off the Astro Lantern in any color and brightness setting by pressing and holding the power button – there's no need to cycle through all optional settings. A helpful blue LED indicator light lets you know how much power is remaining, so you know when a recharge is needed.
On top of providing either red or white light, this versatile device also features a 2600mAH (milliamp-hour) power-bank function, which can be used to recharge mobile phones in emergencies. A Micro USB-to-USB cable is included. The Orion DualBeam 2600mAH LED Waterproof Astro Lantern includes two magnetic clips, carabiner clip, and wrist lanyard. It is priced at $24.99US. For more information, click here.
LHD 80-Degree Lanthanum Ultra-Wide Eyepieces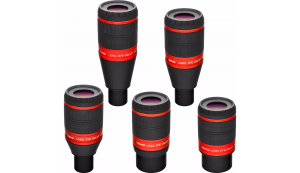 With their ultra-wide 80-degree field of view and true-color lanthanum optics, Orion LHD 80-Degree Lanthanum Ultra-Wide telescope eyepieces are sure to impress even the most demanding amateur astronomers.
Each Orion LHD telescope eyepiece features an element of lanthanum glass, which eliminates color-fringing and chromatic aberrations for true-color, high-contrast views of the cosmos with exceptional clarity. The luxuriously wide 80-degree apparent field of view provides an almost panoramic viewing experience you must experience first-hand to fully appreciate. Views of everything from the Moon and planets to elusive deep-sky objects are delightfully clean and impressively immersive in fully multi-coated LHD Ultra-Wide Eyepieces.
Higher-power 4-mm, 6-mm and 9-mm LHD eyepieces feature a tapered 1.25-inch barrel, while the 14-mm and 20-mm LHD oculars feature a larger 2-inch tapered barrel for secure installation in appropriately sized telescope focusers. All LHD telescope eyepiece barrels are threaded for use with like-sized Orion filters.
Each LHD eyepiece boasts a very long 20-mm eye relief and a larger, 30-mm-diameter eye lens so you can comfortably see the entire 80-degree field while wearing eyeglasses.
Each Orion LHD 80-Degree Lanthanum Ultra-Wide Eyepiece focal length is priced at $269.99US. For more information, click here.
Dielectric Twist-Tight Mirror Telescope Diagonals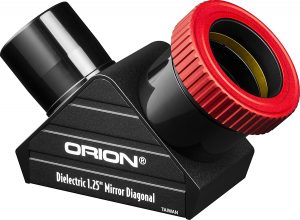 Orion has given its dielectric mirror diagonals a new twist – literally! With their twist-tight clamping mechanism, Orion Dielectric Twist-Tight Mirror Star Diagonals are a significant upgrade from typical thumbscrew-equipped diagonals. A simple clockwise twist of the knurled red-aluminum collar precisely centers any inserted eyepiece or accessory and holds it securely in place.
The innovative twist-tight mechanism keeps your valuable eyepieces free of pesky thumbscrew scratches, and provides a more secure grip than thumbscrew-equipped diagonals. You'll especially appreciate Orion Dielectric Twist-Tight Mirror Star Diagonals when using a telescope during clear, cold evenings thanks to how easy it is to tighten and loosen the large, knurled collar – even while wearing bulky gloves.
Built around a highly-reflective mirror featuring lab-tested dielectric coatings that provide an astounding 99-percent reflectivity, Orion Dielectric Twist-Tight Mirror Star Diagonals will help you obtain the brightest views possible through a refractor or Cassegrain telescope. Plus, since dielectric coatings are more durable than enhanced-aluminum coatings, you'll enjoy year after year of exceptional performance without degradation. To further optimize contrast and brightness, the diagonal's anodized-aluminum housing features machine-threaded internal baffles to eliminate pesky internal reflections and glare. Protective caps are included to keep the diagonal free of dust when not in use.
The 1.25- and 2.0-inch nosepiece barrels are threaded to accept like-sized filters. The 1.25-inch version is priced at $119.99US and the 2.0-inch at $189.99. Click here for more information.