Eclipse2017.org has created a super cool video which uses the latest calculations of the path of the August 2017 Solar Eclipse, combined with Google Earth, to create a "fly-along" with the moon's shadow as it travels over the face of the USA in 2017.
Eclipse2017.org has provided bookmarks within the video, so you can skip right to areas that may be meaningful to you:
The shadow enters at this approximate time stamp:
OR- 0:51
ID – 1:25
MT- 1:49
WY- 1:57
NE – 2:39
KS – 3:33
IA – 3:42
MO – 3:42
IL – 4:25
KY – 4:43
TN – 4:51
NC – 5:23
GA – 5:25
SC – 5:32
Be sure to visit their website  which takes you step-by-step with info on the best locations to view the eclipse by each state.
###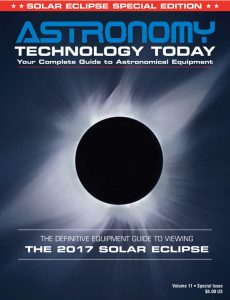 The Astronomy Technology Today editorial staff would like to take this opportunity to remind you of the availability of our Solar eclipse equipment guide  – The Definitive Equipment Guide to the 2017 Solar Eclipse.  Our goal with the 40 page publication is to provide an easy-to-consume introduction to the technological options for viewing and imaging the Great Solar Eclipse. We cover the gamut of options available including building your own solar viewer, solar glasses, smart phones, DSLR cameras, using astronomy telescopes, solar telescopes, using binoculars, solar filters (including a DYI filter option), CCD astro cameras, astro video cameras, webcams and much more. You can view the guide on our website here – its free and there is no requirement to sign up to read the guide.