Revolution Imager has announced the availability of its new Advanced Imaging Kit priced at $249.99US. The kit provides the ability for those who are new to astronomy to view and image Solar system and deep sky objects. As users advance into astro imaging it can continue to serve as a camera guider.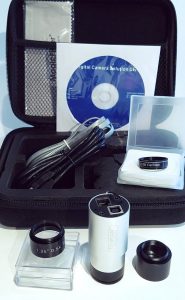 The kit features Sony's IMX224 high resolution, low-noise CMOS sensor. The higher resolution allows users to see more details as they experiment with more advanced astrophotography techniques. It also makes it a great camera for planetary imaging.
The camera also features a standard guide-port giving users the ability to use it as a guide camera. The sensor is also sensitive enough with short and long exposures to give great results on deep sky objects. Because the camera is powered entirely from a computer's USB port, it's a simple one-cable connection to get up and running.
The camera comes bundled with Touptek's Toupsky software which offers features such as live stacking, histogram controls, dark field correction and time lapse recording. Included in the package is a CDROM with software and drivers for Windows systems. Mac and Linux systems are supported but the Toupsky application does not contain all the features of the Windows version (such as Live Stacking and Dark Field correction) The camera has an ASCOM driver so it can be used with other software, such as Sharpcap.
The kit offers:
– Touptek IMX224 Camera
– 1280×960 Pixel resolution, or 640×480 with 2×2 binning
– Full Color Sensor
– Standard ST-4 guiding interface
– Long exposure capabilities
– Sensor chamber is protected with anti-reflection glass
.5x Focal Reducer, for a wider field-of-view and reduced exposure times
– Removable 1.25″ IR filter to make planetary images sharp
– Padded storage case
– Standard USB A-B cable
– Autoguider Cable
The kit is in stock and can be ordered at the Revolution Imager website.
###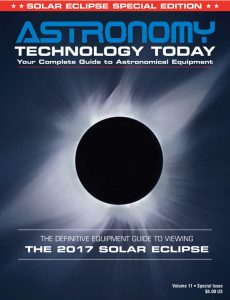 The Astronomy Technology Today editorial staff would like to take this opportunity to remind you of the availability of our Solar eclipse equipment guide  – The Definitive Equipment Guide to the 2017 Solar Eclipse.  Our goal with the 40 page publication is to provide an easy-to-consume introduction to the technological options for viewing and imaging the Great Solar Eclipse. We cover the gamut of options available including building your own solar viewer, solar glasses, smart phones, DSLR cameras, using astronomy telescopes, solar telescopes, using binoculars, solar filters (including a DYI filter option), CCD astro cameras, astro video cameras, webcams and much more. You can view the guide on our website here – its free and there is no requirement to sign up to read the guide.