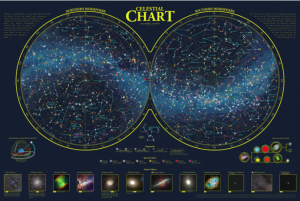 CelestialChart.com is a web-based tool for both amateur and professional astronomers. It specializes in doing one thing and doing it very well: Providing accurate, easy-to-read, real-time or scheduled (past or future), location-specific astronomical charts of celestial bodies and constellations.
Enter a location by city or latitude and longitude, as well as the desired date and time, and it produces a sky chart. You control the magnitudes of stars and objects charted, just as you control all other critical aspects of the graphical interface.
Because CelestialChart.com is web-based – and it works with all browsers with which we tested it – there's no need to add yet another app to your device. You can print your chart to paper or to PDF. You can even add a link to your website for guests to click to access CelstialChart.com directly to view a chart with parameters you define. This is especially handy for clubs hosting star parties.
CelestialChart.com also features an e-commerce store from which you can purchase large print charts. We saw these first at the NEAF telescope expo, and they are simply stunning in person. Our favorite was the 36- by 24-inch Northern and Southern Hemispheres "Entire Sky" chart in full color, priced at $30US, but it's also available in Black-and-White, if you prefer, for between $9.76 and $25, depending on grade. Single-hemisphere versions are available, as well. For more information, visit CelestrialChart.com.
###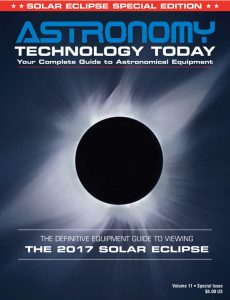 The Astronomy Technology Today editorial staff would like to take this opportunity to remind you of the availability of our Solar eclipse equipment guide  – The Definitive Equipment Guide to the 2017 Solar Eclipse.  Our goal with the 40 page publication is to provide an easy-to-consume introduction to the technological options for viewing and imaging the Great Solar Eclipse. We cover the gamut of options available including building you own solar viewer, solar glasses, smart phones, DSLR cameras, using astronomy telescopes, solar telescopes, using binoculars, solar filters (including a DYI filter option), CCD astro cameras, astro video cameras, webcams and much more. You can view the guide on our website here – its free and there is no requirement to sign up to read the guide.