3D printing, or additive manufacturing, has the potential of revolutionizing every industry whose products incorporate physical components, by delivering mass customization and eliminating cost-prohibitive set up and production complexity.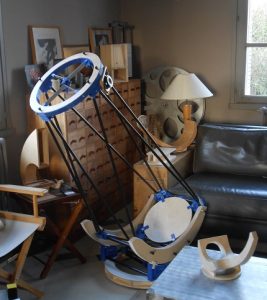 It was only a matter of time before the benefits of 3D printing were deployed in the manufacture of custom telescopes for the amateur market. While we've seen a number of enterprises use 3D printing for modeling of telescope accessories and for eventual production of isolated components, Pierre Desvaux's Dobson Factory of Blanzy, South Burgundy, France, is among the first to employ 3D printing for the majority of the finished structural components of a Dob.
Dob enthusiasts have an opportunity to track its development by following Pierre's meticulous photo documentation on the enterprise's factory blog.
The project offers a structure comprised primarily of carbon-fiber tubing joined by 3D-printed connectors. Polymers now available for 3D printing include formulations engineered for structural stiffness and thermal stability that compliment that of carbon-fiber components, thus greatly increasing the feasibility of Pierre's project. Pierre's is a fascinating journey in 3D telescope development and production and you can view more about the project here.
Of course, The Dobson Factory is an established source of lightweight, transportable Dobsonians constructed of more traditional materials, as well. For more information, visit http://the-dobson-factory.com.
###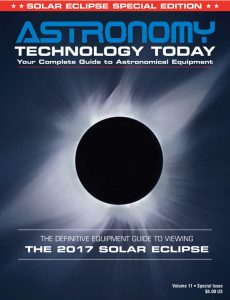 The Astronomy Technology Today editorial staff would like to take this opportunity to remind you of the availability of our Solar eclipse equipment guide – The Definitive Equipment Guide to the 2017 Solar Eclipse.  Our goal with the 40 page publication is to provide an easy-to-consume introduction to the technological options for viewing and imaging the Great Solar Eclipse. We cover the gamut of options available including building you own solar viewer, solar glasses, smart phones, DSLR cameras, using astronomy telescopes, solar telescopes, using binoculars, solar filters (including a DYI filter option), CCD astro cameras, astro video cameras, webcams and much more. You can view the guide on our website here – its free and there is no requirement to sign up to read the guide.