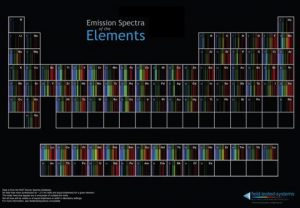 Field Tested Systems was established by Tom Field in 1995 to work directly with leading STEM educators, curriculum experts and scientists to create learning tools that are both effective and economical. Its latest product, a Periodic Table of Spectra, is a prime example of its focus on education.
The table is presented as a striking laminated poster that measures 24 by36 inches that displays each element in the periodic table in full, brilliant color. It's a great way to illustrate at a glance that each element has its own spectral fingerprint, but thanks to the inherent beauty of the displayed spectra, it also makes a striking fine-art piece for your home or office.
The chart displays, at equal strength and width, all persistent lines from the NIST Atomic Spectra Database. Not all lines shown will be visible or of equal brightness in all laboratory settings.
The Periodic Table of Spectra poster is priced at $29.95US. For more information, visit www.fieldtestedsystems.com.
Other RSpec Educational Products
RSpec Explorer: Desktop Spectrometer with Built-in Video Camera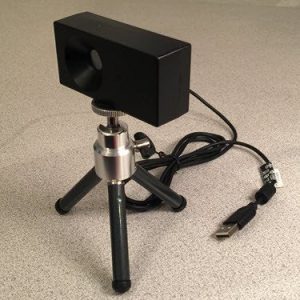 Another educational tool is the RSpec Explorer system, a turn-key, slit-less objective grating system. The grating is sealed in the camera, so it's immune to dust and dirt. The RSpec Explorer spectroscope is designed for demonstrating spectral sources (such as gas tubes), and for measuring the spectra of a wide range of light sources, including LEDs, street lamps, and others.
The spectral range is approximately 390 to 700 nanometers. Accuracy is generally 1% or better and spectroscopic features as narrow as 3 nanometers can be measured.
The RSpec Explorer digital USB camera is a rugged and proven instrument. It's engineered and produced by a leading camera manufacturer and has been used in a wide range of commercial applications. These cameras are known for their reliability, compatibility, and flexibility.
RSpec Explorer Camera's default mode is fully automatic, so it auto-focuses and adjusts to a wide range of light conditions. Gas tube spectra are easily observed in a typical classroom setting. Position the camera approximately one or two meters from your gas tubes. You do not need to turn off the room lights, but a relatively dark and smooth background will give best results.  The system comes with a standup matte black background and stand for this purpose.
Automatic camera settings, gamma correction, and varying ambient light conditions mean that measured flux intensity can vary in different contexts. Spectroscopic absorption lines remain accurate and clearly visible regardless of the lighting.
RSpec Software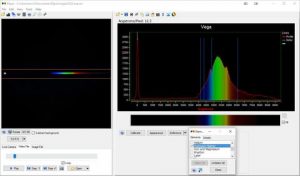 The system includes RSpec software, available on Windows and MacOS and has been used on all seven continents. The software is in use by high school chemistry, physics and astronomy teachers as well as professors in well-known universities and community colleges. Some locations have site licenses for student lab use. Others are using the software with professional astronomical instruments. And still others are using the system to teach spectroscopy in the classroom as well as at public outreach events.
Created by an experienced team of professionals, the software reflects more than 100 years of combined RexLED experience of the RSpec engineering team. You'll find that the program is stable, well-designed, and easy-to-use. You'll be capturing spectra 5 minutes after you install the software. The software comes with a collection of professionally-produced video tutorials that walk you through operation of the program.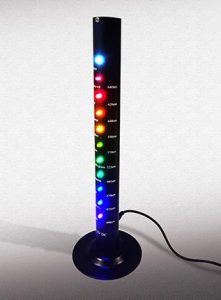 When you purchase the Desktop Spectometer for $395, you get a free copy of the $99 software.  The software runs on all versions of Windows starting with Windows XP, 32 or 64 bit machines. As of May 2017, the software is also available on Mac OS.  When you purchase the spectrometer you get both the Mac and Windows software from the download link.
LED Tower
This LED Tower a perfect add-on to the RSpec Explorer system. Turn on one LED at a time, or all of the lights at once. The LED Tower is excellent for demonstrating the properties of light and challenging students to explain what they're seeing.  It comes with small 110-220 power supply with 2-prong North American wall plug.
Just turn it on and point your RSpec Explorer spectrometer at it and you're ready for an exciting classroom activity with your students. It is priced at $79US.
###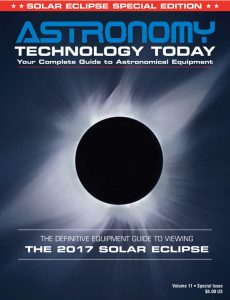 The Astronomy Technology Today editorial staff would like to take this opportunity to remind you of the availability of our Solar eclipse equipment guide – The Definitive Equipment Guide to the 2017 Solar Eclipse.  Our goal with the 40 page publication is to provide an easy-to-consume introduction to the technological options for viewing and imaging the Great Solar Eclipse. We cover the gamut of options available including building you own solar viewer, solar glasses, smart phones, DSLR cameras, using astronomy telescopes, solar telescopes, using binoculars, solar filters (including a DYI filter option), CCD astro cameras, astro video cameras, webcams and much more. You can view the guide on our website here – its free and there is no requirement to sign up to read the guide.