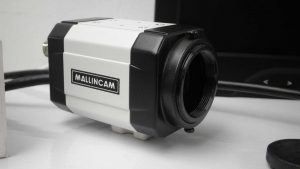 The MallinCam Micro Series camera is a small video CCD camera capable of 1/100,000 all the way up to 17 seconds exposure, making these cameras versatile with any object to be viewed live on a monitor. MallinCam has now announced that the Micro Series is now available as a complete observing kit including a 0.5X focal reducer and RS485 computer control ready.
The MallinCam Micro Series video CCD camera has been custom made to detailed specifications including:
– Full heat shield over the main board to keep heat away from the CCD sensor to reduce hot pixels
– A 1/3 inch 960H EXview HAD II CCD sensor is included as standard equipment. (a SUPER HAD II sensor is available)
– A complete extensive menu.
– 700 TVL processor, output through a BNC 75 Ohms output
The Rear section of the camera has five push buttons for easy access to the menu. A red pilot light is included to prevent loss of night vision of the user.  Made of light weight all aluminum construction, this camera is ideal for a Video CCD Finder System or for a beginner to get their first experience into the world of live video CCD observation (EAA). The camera body is available for purchase separately, or as a package with additional accessories such as C-mount to 1.25″ adapter, video/power cable and AC power supply or the new complete observing kit.
The observing kit includes a Deluxe Camera Body with 2 Meter Wired Remote Control (Super HAD model only), RS485 Computer Socket Ready, 1.25″ Filter Threaded Adapter, 0.5X Focal Reducer with 25 mm Spacer, BNC to RCA Adapter, 25′ Power/Video cable, Choice of ICX672 EXview HAD II Sensor or ICX810/811 Super HAD Sensor, the choice of 120 volts ac power source or 12 volts dc cigarette type adapter. The package is priced at $229US.
SkyRaider AG1.2c Imager-Guider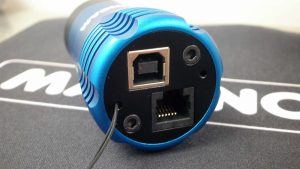 Another of MallinCam's affordable entry models includes its recent addition of the AG1.2c, an inexpensive USB 2.0 camera that can be used as an autoguider, but is also a very capable entry-level camera for those interested in exploring video astronomy. The AG1.2c is the most affordable camera in its class ever offered by MallinCam.
The AG1.2c deploys a carefully selected, passively cooled 1.2 MP, 1/3-inch (6-mm) Sony IMX224 CMOS sensor with a sensitivity of 2350 mv. Pixel size is 3.75 by 3.75 µm and sensor resolutions are 1280 by 960 or 640 by 480.
The sensor if protected by a sealed window with full antireflection coatings on both sides, and the camera is housed in a CNC-machined aluminum case for durability. The AG1.2c weighs just 2.2 ounces (65 grams) and measures 2.5 inches (63.5 mm) in length. The camera includes a 1.25-inch threaded adapter, an ST4 guiding cable and a 15-foot (5.0-meter) USB cable.
Other features and specifications include: Live stacking on the fly; live star registration, ideal for all motorized alt/az-mounted telescopes; exposure up to 16 minutes; dedicated astrophotography software to support live video, imaging, image stacking, and more; MallinCam's unique dark-field correction (no Peltier cooler needed); and a built-in ST4 auto-guider port.
MallinCam's AG1.2c is priced at $249.99US.
SkyRaider DS16C Video/Imager/Autoguider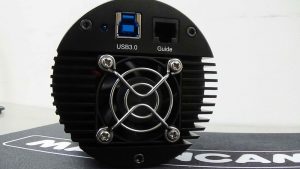 For more experienced astro video enthusiasts, MallinCam last fall released a large-sensor DS16C video/imager/autoguider to its SkyRaider family of astro-video cameras. The DS16C incorporates a 16.3 megapixel, grade-1 ceramic sensor to deliver the increased sensitivity needed for astronomical observations and imaging – it excels at excelling at live observing of deep sky, filtered solar and lunar objects.
The MallinCam SkyRaider DS16C is the most versatile video/imaging camera ever created by MallinCam for computer use. All astronomical targets can be observed live, while simultaneously capturing images or while video is recorded, making this MallinCam a most versatile observing device.
The sensor measures 22 mm diagonally and delivers high-resolution images with all telescope types. An optional 0.5X, 2.0-inch focal reducer is also available to further increase the field of view needed for those spectacularly large astronomical objects. The sensor has significantly improved sensitivity in the near-infrared light region and utilizes square 3.80 µm unit pixels with high signal-to-noise ratio.
The MallinCam SkyRaider DS16C uses USB 3.0 technology (reverse compatible to USB2.0) to deliver fast download speeds, near instantaneous to the computer and perfect for displaying live images, capturing long-exposure images or recording video files. A fan assisted passive cooling system ensures sensor temperature stability and super low noise ratio.
The camera's Panasonic sensor sensitivity is augmented by incorporating CDS (correlated double sampling) procedures. This feature ensures that the SkyRaider DS16C is perfect for astronomy and other dark-field applications, as well as for bright-field applications required for lunar, and filtered solar observing.
By utilizing the MallinCamSky software application dark-frame correction feature, an internal Peltier cooler (TEC) is not needed. This results in the use of only a single cable from the camera to the computer's USB 3.0 port. The dark-field correction feature removes all hot pixels, warm pixels, amp glow and most dark current noise on the fly making this premier astronomy camera the idea choice in the field or in an observatory. The dark-field correction technology has been implemented by MallinCam for all SkyRaider Series of cameras, eliminating the need of a Peltier cooler.
Features and specifications include: Live Stacking on the fly; live star registration, ideal for all motorized alt-az mounted telescopes; support and includes full trigger mode; built-in memories; CDS (Correlated Double Sampling); 4656 X 3518 effective pixels; all-pixel scan transfer method; progressive scan; full HD support; hand-selected class-1 sensor (scientific grade); sealed, multi-coated (no-IR) optical window, 3.80 by 3.80 µm square pixels; sensor gain variable to 20x; binning resolutions of 4640×3506, 2304×1750 and 1536×1168; sensor size of 4/3-inch (17.6472×13.3228 mm); 4K2K support; full scan, any size cropping; 4.3 aspect ratio; standard ST4 guiding protocol; all-aluminum construction, precision CNC machining; and hand-crafted electronics assembly. The camera assembly weighs 430 grams (15.16 ounces) and measures 3.1 inches in diameter by 3.25 inches long (78.74 by 82.55 mm).
The DS16C includes a 1.25-inch adapter and a 2-inch adapter one 5-meter (15.5-feet) high-grade USB 3.0 cable, and MallinCamSky software. It is priced at $1399.99US.
###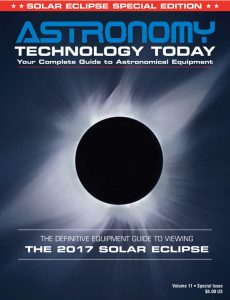 The Astronomy Technology Today editorial staff would like to take this opportunity to remind you of the availability of our Solar eclipse equipment guide – The Definitive Equipment Guide to the 2017 Solar Eclipse.  Our goal with the 40 page publication is to provide an easy-to-consume introduction to the technological options for viewing and imaging the Great Solar Eclipse. We cover the gamut of options available including building you own solar viewer, solar glasses, smart phones, DSLR cameras, using astronomy telescopes, solar telescopes, using binoculars, solar filters (including a DYI filter option), CCD astro cameras, astro video cameras, webcams and much more. You can view the guide on our website here – its free and there is no requirement to sign up to read the guide.