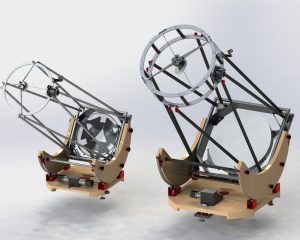 Deep-Astro Instruments had a couple of seemingly mundane goals in mind when designing its new line of Dobs: They had to be easy to transport and to set up, plus they needed to be accurate and robust. The resulting telescopes, though, are, as you shall see, far from mundane. Indeed, their simplicity appears uniquely beautiful to our eyes, as well as functional, portable and durable.
The main structures are constructed of welded steel coated with epoxy paint for ultimate protection against corrosion. All aluminum components are formed to high precision on a digital milling machine and receive an anodized finish.
Because motorized slewing and tracking is integrated into the design, not added on to an existing design, the final form is especially clean and minimalist. The drive system provides three tracking speeds, sidereal, lunar and solar, and for three self-tracking speeds, 0.1x, 0.75x and 0.5x.
Birch Plywood is deployed where wood serves best, and its natural finish compliments the metal components perfectly. The wood components are digitally cut, then finished with a marine varnish.
All aluminum parts are anodized with complimenting colors to enhance the beauty of the telescopes, and all fasteners are of stainless steel.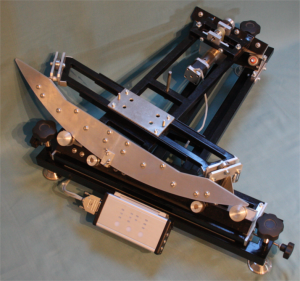 Each 18-point primary-mirror cell is optimized to the desired deformation profile and defined by the nature and thickness of the specific primary mirror which it will support. Collimation of the primary is performed remotely by two stepper motors with a resolution of 1/10000 turn of the screw, or 0.10 µm. Ventilation of the primary mirror is enhanced by three 80-mm fans for quick cool down.
The secondary mirror is easily secured and locked with a single screw. It is collimated by three easy-access screws.
Adding one of Deep-Astro's equatorial platform converts the classic Dob into an astrophotography ready instrument that averages the performance of traditional equatorial mounts.
The new Deep-Astro Dobsonian Telescopes are available in apertures ranging from 300 mm to 800 mm, with pricing starting at 4800€. For more information, please visit www.deep-astro.com.
###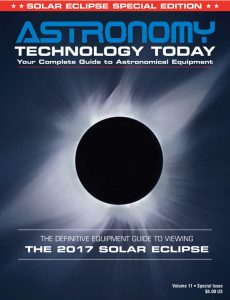 The Astronomy Technology Today editorial staff would like to take this opportunity to remind you of the availability of our Solar eclipse equipment guide – The Definitive Equipment Guide to the 2017 Solar Eclipse.  Our goal with the 40 page publication is to provide an easy-to-consume introduction to the technological options for viewing and imaging the Great Solar Eclipse. We cover the gamut of options available including building you own solar viewer, solar glasses, smart phones, DSLR cameras, using astronomy telescopes, solar telescopes, using binoculars, solar filters (including a DYI filter option), CCD astro cameras, astro video cameras, webcams and much more. You can view the guide on our website here – its free and there is no requirement to sign up to read the guide.